And the Big 'October Surprise' Press Conference From Wikileaks Revealed… Absolutely Nothing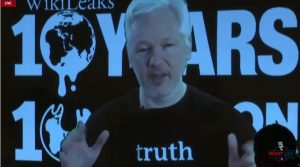 For those of us stateside who woke up at an ungodly hour for Julian Assange's big "October Surprise," it's time to go back to bed.
The Wikileaks founder changed the plans for his big reveal, citing security concerns and shunning away from his usual route of parading around big media shows: from the balcony of the Ecuadorian embassy in London, where he was been since 2012.
Due to security concerns at the Ecuadorian Embassy, Julian Assange's balcony announcement on Tues has been cancelled, per @wikileaks

— Jesse Rodriguez (@JesseRodriguez) September 30, 2016
Instead, Tuesday morning's "surprise" was broadcast over a live-streamed news conference that ended up being a self-congratulatory pat on the back for 10 years in business (the Wikileaks domain name was registered a decade ago to the day). Assange even managed to promote a few new books as well during his broadcast — "40% off this week" for the book Wikileaks Files he touted — but alas, no incriminating documents relating to Hillary Clinton's campaign.
Donald Trump surrogate and pal Roger Stone, who has claimed to have close contact with Assange, teased the reveal on Twitter indicating that Assange's big show would spell the end for Clinton's Presidential ambitions.
Wednesday@HillaryClinton is done. #Wikileaks.

— Roger Stone (@RogerJStoneJr) October 2, 2016
No such reveal came, but Assange did note that his digital outlet did "a helluva lot of work," over the past decade. He also teased another upcoming book called Cyberpunks, and noted that there were still documents relating to the 2016 election yet to be revealed. Assange hopes that they will be made public in time for the November 8 election. Lending credence to the thought that Assange could in fact be revealing an "October Surprise" that could have severe electoral impacts was Wikileaks' role in releasing the devastatingly-timed emails from the Democratic National Committee earlier this summer.
In August, Assange told Megyn Kelly of Fox News of his incriminating election publications, "I don't want to give it away," but indicated that it could have a major impact on the 2016 race. Alas, it looks like the only thing it had a major impact on was my REM cycle for the night.
"We hope to be publishing every week for the next 10 weeks," he said, even furthering to admit that if there were any substantial document leak regarding the US election, it wouldn't come at such a ridiculous early morning hour.
Even the early morning Fox & Friends shindig got itself all worked up over the catastrophic letdown:
Julian Assange is expected to make a big announcement on the presidential race. @kellywrightnews is following the overnight developments.

— Fox & Friends First (@FoxFriendsFirst) October 4, 2016
The Wikileaks founder was outright asked by a journalist in the room if the future publications were likely to spell the end of the Hillary Clinton campaign in the United States. Assange admitted sheepishly, "There's been a lot of misquoting of me and Wikileaks publications."
A few weeks ago, Republican nominee Donald Trump (as Jake Tapper put it) politically rick-rolled members of the press by teasing a revelatory statement about President Obama's place of birth and instead subjected us to an hour of military endorsements. This morning, Assange took a page out of Trump's book, and with the eyes of the world watching, took a victory lap celebrating his ten years of business.
"Never gonna give you up, never gonna let you down / Never gonna run around and desert you."
I'm going back to bed in my Virginia hotel room. I never thought I'd say this, but tonight's Vice Presidential debate up the road in Farmville between Tim Kaine and Mike Pence has got to be more exciting than whatever broadcast dribble from London I just sat through. Here's my big hot take for the morning:
Can Julian Assange and #Wikileaks uncover where I can find the missing hours of sleep I just lost waiting for their "announcement"?

— J.D. Durkin (@jiveDurkey) October 4, 2016
… and some others from Twitter to join in the chorus:
@wikileaks @RealAlexJones Surprise!! I can't believe you fell for it!Knew he had nothing #wikileaks10 #wikirolled #OctoberSuprise pic.twitter.com/VCqNtlKxIE

— Bryan Matthew (@rocky2283) October 4, 2016
#wikileaks nothing at all

— Kevin Whitehall (@kevinwhitehall) October 4, 2016
@wikileaks Gave a shit-tier, low-quality, poorly managed press conference in which they offered literally nothing of value.

— Brandon Drake (@BrndnDrake) October 4, 2016
@SayedulHuda Nothing going to happen from Wikileaks today. 100% self-promotion BS this morning. No info.

— Jim Ruth (@IMJHR43) October 4, 2016
@wikileaks THANKS FOR NOTHING #ASSANGE

— lucia (@LuciaUnoimfun) October 4, 2016
@russellwiley lost 2 hrs of sleep for nothing. Pissed at Julian, he pussy'd out @wikileaks

— KevJames (@KevJames91) October 4, 2016
Just watched wikileaks press conference, 1 1/2 hour of boring bs, & a bunch of uhhs, umms, but nothing on election, he has no smoking gun

— Don't Need to Know (@i_am_bry) October 4, 2016
@wikileaks Was that a joke? You spend two hours boring us to death with marketing yourselves, then release NOTHING AT ALL. Pathetic crap.

— Aristotle Grumpus (@AristotleGrump) October 4, 2016
Ridiculous. Waited for nothing #Wikileaks

— Bilal (@BilalMahli) October 4, 2016
—
J.D. Durkin (@jiveDurkey) is an editorial producer and columnist at Mediaite.
This is an opinion piece. The views expressed in this article are those of just the author.