Andrew W.K. Unites America with Response to Man Complaining of 'Super Right-Wing' Dad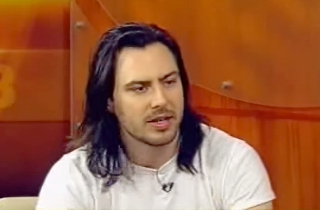 Andrew W.K. is known as many things: Hard rocker, party enthusiast, motivational speaker, Brony icon, cultural ambassador to Bahrain (of our dreams), and all-around nice guy. And so it should come as no surprise he also wants to act as a uniter, a harbinger of friendship and humanity.
On weekly basis, W.K. answers questions for an advice column in the Village Voice. This week's iteration has been making the rounds on the web for its political nature.
"I'm writing because I just can't deal with my father anymore," the anonymous reader submits. "He's a 65-year-old super right-wing conservative who has basically turned into a total asshole intent on ruining our relationship and our planet with his politics. I'm more or less a liberal democrat with very progressive values and I know that people like my dad are going to destroy us all."
The letter continues:
I don't have any good times with him anymore. All we do is argue. When I try to spend time with him without talking politics or discussing any current events, there's still an underlying tension that makes it really uncomfortable. Don't get me wrong, I love him no matter what, but how do I explain to him that his politics are turning him into a monster, destroying the environment, and pushing away the people who care about him?
W.K.'s lengthy answer is worth reading in full, especially if you feel bummed out by these intensely partisan times. But the response opens with the rocker instructing his reader to re-think what he just asked.
"Go back and read the opening sentences of your letter. Read them again. Then read the rest of your letter. Then read it again," W.K. wrote. "Try to find a single instance where you referred to your dad as a human being, a person, or a man. There isn't one. […] The humanity has been reduced to nothingness and all that's left in its place is an argument that can never really be won. And even if one side did win, it probably wouldn't satisfy the deeper desire to be in a state of inflamed passionate conflict."
According to W.K., these deeply personal, partisan conflicts are mostly useless.
"The world isn't being destroyed by democrats or republicans, red or blue, liberal or conservative, religious or atheist," he wrote, "the world is being destroyed by one side believing the other side is destroying the world. The world is being hurt and damaged by one group of people believing they're truly better people than the others who think differently."
The "Party Hard" writer warned his reader against the pitfalls of compartmentalization, and pleaded with him to understand the nuance in every argument:
When we anticipate with ferocious glee the next chance we have to prove someone "wrong" and ourselves "right," all the while disregarding the vast complexity of almost every subject — not to mention the universe as a whole — we are reducing the beauty and magic of life to a "side" or a "type," or worst of all, an "answer." This is the power of politics at it's most sinister.

At its best, politics is able to organize extremely complex world views into manageable and communicable systems so they can be grappled with and studied abstractly. But even the most noble efforts to organize the world are essentially futile. The best we can usually achieve is a crude and messy map of life from one particular vantage point, featuring a few grids, bullet points, and sketches of its various aspects and landmarks.
W.K.'s final message was one of love and respect, despite differences:
Love your dad because he's your father, because he made you, because he thinks for himself, and most of all because he is a person. Have the strength to doubt and question what you believe as easily as you're so quick to doubt his beliefs. Live with a truly open mind — the kind of open mind that even questions the idea of an open mind. Don't feel the need to always pick a side. And if you do pick a side, pick the side of love. It remains our only real hope for survival and has more power to save us than any other belief we could ever cling to.
Reminds this writer of a line from singer-songwriter Elvis Perkins: "And though you voted for that awful man / I will never refuse your hand / On doomsday."
In case you're interested in other helpful Andrew W.K. columns, Village Voice compiled his greatest hits here.
[Image via screengrab/Fox23]
— —
>> Follow Andrew Kirell (@AndrewKirell) on Twitter
Have a tip we should know? tips@mediaite.com