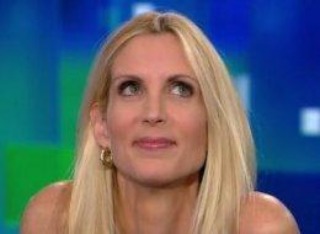 Author and frequent Fox News contributor Ann Coulter can now add another little bullet point to her resume: Honorary chair of gay conservative group GOProud's advisory council. Her official title? "Gay Icon." To quote a a straight girl acting like a gay man trapped in 1996: "Fierce!"
The board includes some other names you may recognize as well: Margaret Hoover, Grover Norquist, Andrew Breitbart, Liz Mair, Chuck Muth, Lisa De Pasquale, Christian Josi, Roger Stone, Andrew Langer, Kathryn Serkes and Bob Carlstrom. Last year, Coulter was a big draw at GOProud's first-ever Homocon event in New York City.
GOProud chairman Christopher Barron explains why Coulter is an ideal choice to advise the group:
Ann helped put our organization on the map. Politics is full of the meek, the compromising and the apologists – Ann, like GOProud, is the exact opposite of all of those things. We need more Ann Coulters.
Coulter said she is looking forward to being "the Queen of Fabulous."
Gay blog Queerty reacted to the news by expressing disgust at both Coulter and GOProud's track records when it comes to supporting and advocating gay rights:
Coulter called Al Gore "a total fag" and John Edwards "a faggot,", she supports Don't Ask, Don't Tell because she considers gays a security risk, and says that the liberals have "co-opted" the gays in an attempt to destroy families.

Considering that GOProud regularly supports anti-gay candidates, doesn't support gay marriage—even though GOProud Chairman Christopher R. Barron is married (the hypocrite)—and has been mocked by Coulter in the past—they totally deserve each other. Barron says that Coulter's appearance at their 2010 Homocon event "helped put [GOProud] on the map."

Yes, just like the nuclear meltdown helped put Chernobyl on the map.
Below, take a look at Coulter discussing GOProud (and why all gay people are inherently conservative) during an appearance on C-SPAN:
h/t GOProud
Have a tip we should know? tips@mediaite.com