Ann Coulter Tweets: Please 'Explain What Was Allegedly Offensive About DeNiro's Joke'
Ann Coulter: Please 'Explain What Was Allegedly Offensive About DeNiro's Joke'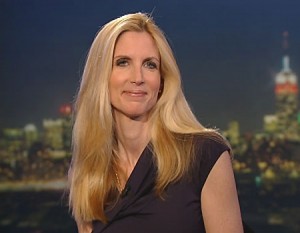 It's not unusual for conservative commentator Ann Coulter to tell women to stop playing the victim (and in some cases, rightfully so), but it was somewhat surprising to see the New York Times bestselling author defend "The Godfather II" star Robert DeNiro's joke that the United States is not ready for another white first lady.
"Can we please stop the fake 'offended' routine? Pls explain what was allegedly offensive about DeNiro's joke," Coulter tweeted Tuesday in the wake of Internet outrage over DeNiro's wisecrack.

Coulter followed up with a retweet that provides us with a little more clarity: "It's always a bad idea to imitate liberals. RT @TPCarney It's just conservatives trying to get offended [like] liberals always get."

DeNiro came under fire Tuesday when news outlets revealed that he'd said at a recent New York fundraising event that it's "too soon" for the U.S. to have another white FLOTUS:
"Callista Gingrich. Karen Santorum. Ann Romney. Now do you really think our country is ready for a white first lady?"
Though the Romney, Santorum, and Gingrich campaign did not respond to my request for comment, Gingrich unloaded his beef with DeNiro's statement later on in the day:
"What De Niro said last night was inexcusable and the president should apologize for him. It was at an Obama fundraiser, it is exactly wrong, it divides the country."
Michelle Obama wasn't too pleased with DeNiro's comment either, as her press secretary's response was, "We believe the joke was inappropriate."
So the real question is, whose side are you on: Team Potential First Ladies or Team DeNiro?
Have a tip we should know? tips@mediaite.com