AOL's Outside PR Firm Really Wants to Clarify One Thing About CEO's 'Distressed Babies' Call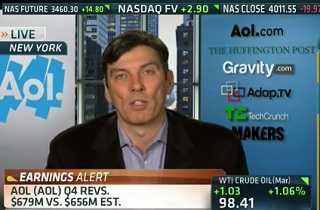 As the fallout from AOL CEO Tim Armstrong's remarks about "distressed babies" and subsequent apology continues, a public relations firm that specializes in crisis management has been tasked with seeking "correction" and "clarification" of the coverage of the story. In an email to Mediaite Monday evening, a spokesman for Edelman sent a "correction request" asking us to "clarify" one aspect of the coverage.
Armstrong spent last Wednesday trying to explain his decision to cut 401k benefits, first telling CNBC that Obamacare was to blame, then, on a company conference call, delivering another explanation. On that call, Armstrong laid the blame for the 401k change, which switched the company match from a per-pay-period match to an end-of-year match, at the tiny feet of two babies:
"Two things that happened in 2012," he said, according to a transcript provided by an AOL employee. "We had two AOL-ers that had distressed babies that were born that we paid a million dollars each to make sure those babies were OK in general. And those are the things that add up into our benefits cost. So when we had the final decision about what benefits to cut because of the increased healthcare costs, we made the decision, and I made the decision, to basically change the 401(k) plan."
Armstrong apologized for the remark on Saturday, and restored the old 401k policy. Deanna Fei, the mother of one of those babies, took to the virtual pages of Slate magazine to blast Armstrong's remarks, but ultimately accepted Armstrong's apology, and said she forgives him.
In an email to Mediaite on Monday night, an Edelman spokesman made the following request:
I'm working with AOL and wanted to clarify a point in your recent coverage regarding the news of AOL's 401k plan.

The policy on 401k reduction was announced in October — it was not announced last week in conjunction with the mention of the two $1 million birth-related costs (there has been some confusion about this.) For reference, please see Tim Armstrong's email to employees which states the decision was made last year.
Our original report on this story, of course, did not say anything different, and included Armstrong's statement to CNBC that the decision had been made last year. Asked to provide additional detail from the conference call, or from other announcements of the policy change, Edelman declined, and responded that "The 401(k) policy change was announced via internal communications last fall, and the only statement available from Tim Armstrong at this time was shared below in my earlier email."
Edelman also declined to reveal how much AOL is paying for their services, but an experienced PR professional with extensive experience in crisis management ballparks an account like this at around $100,000 a month, at the high end. Only time will tell how Armstrong deals with that expense. It's not quite an entire distressed baby, but it ain't chump change.
We've added the full text of Armstrong's email apology to the original report, as provided by Edelman. Originally, the piece linked to a leaked copy of the full email, and quoted one paragraph from it.
Have a tip we should know? tips@mediaite.com