Arby's Pulls Ads From Rush Limbaugh, Proceeds To Block Conservative Critics On Twitter
Arby's Pulls Ads From Limbaugh, Proceeds To Block Conservative Critics On Twitter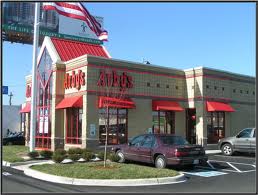 On Thursday, Arby's, the fast food chain, announced on Twitter that it would no longer advertise with Rush Limbaugh. Nothing too earth-shattering, given the number of companies that have already pulled advertising from Limbaugh. But predictably, the chain's announcement was met with some criticism. So, what did Arby's do? Went on a spree, blocking users who disagreed with the decision.
Arby's first announced the move on Twitter:
@StopRush We're aware of this issue and have taken the necessary steps to discontinue advertising during this show as soon as possible.

— Arby's (@Arbys) April 4, 2012
Then, responding to negative feedback, the company's idea of a good strategy, as Twitchy reported, was to go on a blocking spree. Among those blocked were:
So, @Arbys, now you're blocking people asking you why you caved to extortion tactics? Can you say "doubling down on failure?"

— RB (@RBPundit) April 5, 2012
@StefanoSpeaks I asked @arbys why they caved in to the thuglike tactics of @StopRush and they blocked me. Great marketing.

— Teri Christoph (@TeriChristoph) April 6, 2012
New @Arbys sandwich announced.It's the #arbysblockedmeclub

— Jerry (@rightinillinois) April 6, 2012
I'm sitting here listening to @RushLimbaugh and I've suddenly developed a huge craving for anything but @Arbys. #Arbysblockedmeclub

— YankInGeorgia (@YankInGeorgia) April 6, 2012
So @Arbys, it seems like you're in the market for a social media engagement team. Call me. We'll do a strategy lunch. At @Mcdonalds.

— Bob Owens (@bob_owens) April 6, 2012
That last tweet raises a good point. Pulling advertising is one thing, but the Twitter rampage is just bad social media strategy. Especially for a large fast food chain. This is still a business decision, and the follow-up response is neither smart nor does it really serve a purpose. As John Hudson points out over at The Atlantic, "Maybe you think you're serving a lot liberals with your delicious Jamocha shakes but you're first and foremost a fast food chain, and if you knew anything about fast food customers, you'd be careful not to anger conservative America." Smooth move, Arby's.
Have a tip we should know? tips@mediaite.com