Ari Emanuel Reportedly Rebuffed Requests By Democrats to Release Damaging Footage of Trump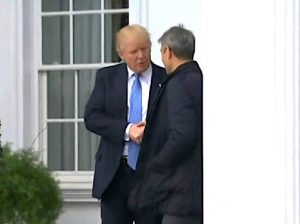 It was already well-known that following the infamous Access Hollywood hot mic moment, Democrats and anti-Trump forces were on the lookout for other damaging footage of Donald Trump from his years hosting The Apprentice, along with other television and media appearances.
Now, it was rumored that Trump used the N-word and other inflammatory language while on the Apprentice set, and there were allegedly outtakes available. However, threats of lawsuits from producer Mark Burnett and apparent confidentiality agreements apparently were cited as reasons for wy we never saw those tapes. (Comedian and actor Tom Arnold gave those as the reasons for why he won't make public the footage he claims to have.)
Well, it appears that there was also politically harmful video footage from another source. According to The Daily Beast, the owner of the Miss Universe Organization refused requests to release any archival footage of or related to Trump. The owner, Ari Emanuel, happens to be the brother of Chicago Mayor Rahm Emanuel, who was also President Barack Obama's Chief of Staff.
Ari's company, WME-IMG, bought 100% of the Miss Universe Organization last year from Trump, who had owned it since the 90s. However, despite his support of Obama and his family's ties to the Democratic Party, Ari Emanuel appeared to value his lengthy friendship with Trump over any potential benefits his political party would receive via embarrassing footage of Trump.
The belief that there would be something juicy in Miss Universe footage wasn't just due to the Access Hollywood tape or the rumors surrounding Apprentice outtakes. In an old interview with Howard Stern that was uncovered during the campaign, Trump boasted about going backstage at the beauty pageants and seeing the contestants nude. There were also accusations made by Miss Teen USA contestants that he walked in on them.
Yet, despite these tapes allegedly existing that perhaps could have been damaging, nothing was made available when requested:
Three sources confirmed to The Daily Beast that politically controversial tapes did exist within the Miss Universe Organization archives at one point. It is unclear if those tapes have been destroyed since WME-IMG bought the Miss Universe Organization. According to the sources, the tapes (and the accompanying audio) were not part of the actual pageants, rather they involved backstage, behind-the-scenes filming for social media and other promotional purposes.

According to four sources, attempts were made by Trump opponents to contact editors and production staff who used to work for the Miss Universe Organization, but they were unresponsive. It's important to note that the non-disclosure agreements that the Trump Organization requires all of its staff to sign are legendarily tough, leading many to stay silent out of fear of being sued by the famously litigious Trump.
It was also reported that Trump critic Mark Cuban reached out to Ari to get a hold of the tapes, only to be told "My brother is in politics, I'm not."
The Beast also noted that while Ari Emanuel donated money to Hillary Clinton, as did employees of his company, the amount was way lower than in both the Obama campaigns. After winning the election, Trump met with Ari at his New Jersey golf course, where he was conducting interviews for Cabinet spots.
[image via screengrab]
–
Follow Justin Baragona on Twitter: @justinbaragona
Have a tip we should know? tips@mediaite.com