Arizona Democrats Raise The (Fundraising) Alarm With Word Sarah Palin Might Move To State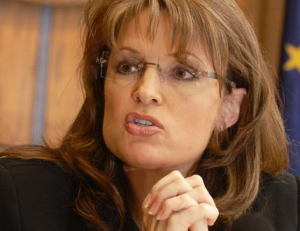 The Arizona Democratic Party heard rumors that Sarah Palin might be thinking about moving her base of operations from Wasilla to Scottsdale and they jumped into action. That is, they wrote a pithy fundraising letter–this stuff could mean big bucks. "Help us send a strong message that Arizona should not be a stepping stone for extremist politicians and their radical agendas," wrote party executive director Luis Heredia in an email to supporters. "Contribute to the Arizona Democratic Party."

Cha-ching.
POLITICO's Ben Smith first reported the possible move to the Lower 48, describing the logic of a move this way:
I'm told Palin's camp is, at least, holding preliminary talks about how a campaign would look if she decides to run. One early decision, a source says: It would be based in Scottsdale, Arizona, very near where Bristol Palin recently bought a house in Maricopa.
As Smith points out, poor polling numbers have many in the GOP thinking a Palin campaign may never materialize, but that sure didn't stop the Democrats in the Grand Canyon State from sounding the alarm. Here's the full email:
Dear Friend,

Politico reported earlier today that Sarah Palin is eyeing Scottsdale to launch her bid for the White House.

"But I'm told Palin's camp is, at least, holding preliminary talks about how a campaign would look if she decides to run. One early decision, a source says: It would be based in Scottsdale, Arizona, where Bristol Palin recently bought a house in nearby Maricopa." – Politico, March 9, 2011.

There is even political chatter of her looking at Arizona's open Senate seat.

The Politico article summed it up: "Arizona carries its own significance: […] It's also the core of the politically contested, fast-growing new West."

Help us send a strong message that Arizona should not be a stepping stone for extremist politicians and their radical agendas. Contribute to the Arizona Democratic Party.

2012 will be an important year for Arizona, and it starts now.

On Sunday, The Washington Post reported that President Obama's 2012 campaign manager, Jim Messina, "has his eye on states like Arizona, where he argues that McCain's absence from the ballot will give the president a better chance this time around."

Please give $5, $10, $20 today to help the Arizona Democratic Party become the "big-tent" home to not just Democrats, but Independents and Republicans disillusioned with the direction of our state.

The big secret is out: Arizona is ripe for a sea change to elect leaders who represent mainstream Arizona values like a strong economy, safe streets, and better schools.

Yours in the fight,

Luis Heredia

Executive Director

Arizona Democratic Party
Have a tip we should know? tips@mediaite.com