Bill Keller Takes On Arianna's Aggregation: Kitten Videos With A 'Left-Wing Soundtrack'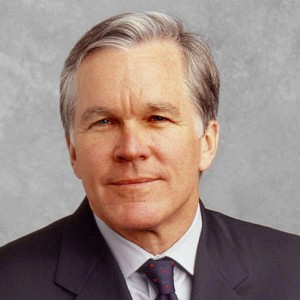 "The world conspires to convince me of my significance," writes The New York Times executive editor Bill Keller, running through the numerous "most influential" lists he's made.
Keller elects to use this influence to weigh in on The Future of Journalism in a much-discussed op-ed piece, tackling a specific issue that keeps popping up in discussions on what tomorrow might hold for those who report on – and make – the news: Content aggregation. And he sets his sights squarely on a name that has become synonymous with this "style" of presenting news online:
The queen of aggregation is, of course, Arianna Huffington, who has discovered that if you take celebrity gossip, adorable kitten videos, posts from unpaid bloggers and news reports from other publications, array them on your Web site and add a left-wing soundtrack, millions of people will come. How great is Huffington's instinctive genius for aggregation? I once sat beside her on a panel in Los Angeles (on — what else? — The Future of Journalism). I had come prepared with a couple of memorized riffs on media topics, which I duly presented. Afterward we sat down for a joint interview with a local reporter. A moment later I heard one of my riffs issuing verbatim from the mouth of Ms. Huffington. I felt so . . . aggregated.
That, and his comparison of aggregation to piracy in Somalia, should tell you all you need to know about Keller's thoughts on the matter.
But, he notes, aggregators like Huffington are trying to get a bigger piece of the pie by hiring a new team of reporter to create original content – even as Aol, who bought HuffPost for $315 million, lays off hundreds of employees, including many in editorial. Keller colorfully describes his feelings about the new hires thusly: "I can't decide whether serious journalism is the kind of thing that lures an audience to a site like The Huffington Post, or if that's like hiring a top chef to fancy up the menu at Hooters."
Funny, sure. But… What about The New York Times' own adventures in aggregation?
As Mashable helpfully illustrates, today the NYT.com released a revamped version of its "Recommendations" platform, which offers a curated list of articles, selected with the help of an aglorithm, that might interest individual readers. (The first two articles recommended to us were about terrorism and torture, and the third was about brow grooming for men.) Of course, Recommendations works by choosing stories from within the site itself rather than by seeking out and organizing stories from across the web, or by "unpaid bloggers."
But, isn't the aim essentially the same – to keep one's readers informed, entertained and interested (while bringing in enough pageviews to bring in a good amount of money)? Of course, our perspective may be (read: is) colored by the fact that Mediaite is a site that also aggregates and presents news from various sources across television, radio, the internet and print. As we see it, our job is to seek out topics for our readers ranging from breaking news, to in-depth op-eds, to human interest stories. These, in turn, are all presented in a way that's easily digestible, by a staff of paid editors with different areas of expertise (like law, or government, or media, or poop jokes).
The reality is, of course, that the very nature of the internet renders all news inherently sharable. Keller's piece is a great example – it's popped up on my Twitter and Facebook feeds nearly as many times as "news" about a certain former CBS actor. His piece is almost custom-made for aggregation: It's relatively short, it's punchy, it's funny, it makes several mentions of media buzzwords and bold names.
Plus, Keller's piece is kind of… well… snarky? It's practically Twitgawkbook bait, dangling before the glazed-over eyes of so many content aggregating bloggers.
Author and journalism professor Adam Penenberg's Tweet on the matter echos our own thoughts on the tone of Keller's piece:

Bill Keller seems quite thin-skinned. Attack the economics of aggregation from NYT POV, that's fair. But this is needlessly churlish.
In the parlance of the internet: You mad, New York Times?
h/t New York Times
Have a tip we should know? tips@mediaite.com