(UPDATES) Asiana Airlines Boeing 777 Crashes At San Francisco International Airport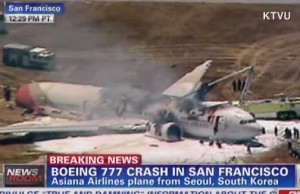 A Boeing 777 en route from Seoul, South Korea crashed upon landing at San Francisco International Airport Saturday afternoon, flipping over after its tail fell off. (UPDATE 8:00 p.m.: CNN is now reporting two dead, 60 unaccounted for, according to the city fire department.)
The cause of the crash is unknown, though one official, who asked not to be named, said the plane was not making an emergency landing.
Witnesses say the landing gear had come down when the tail came off, causing the plane to flip upside down and eventually skid to a stop on its back. (UPDATE 3:41 p.m.: Reports are now indicating that the plane is rightside up.) Smoke was seen billowing from the massive jet, and after rescue crews put out the fire much of the plane's roof appeared to have burned off.
The 777 is a large model airplane that can carry up to 450 people.
UPDATE: 4:30 p.m.: Follow a live feed of the aftermath HERE.
David Eun, a self-described "digital media guy," tweeted from inside the plane, claiming that he had crashlanded in San Francisco but was okay:

Watch updated footage on the crash below, via CNN:

Below is a recording of air traffic control back and forth with the pilot prior to and during the crash:
———————————————————————
Updates below:
UPDATE: 3:37 p.m.: More photos of the crash: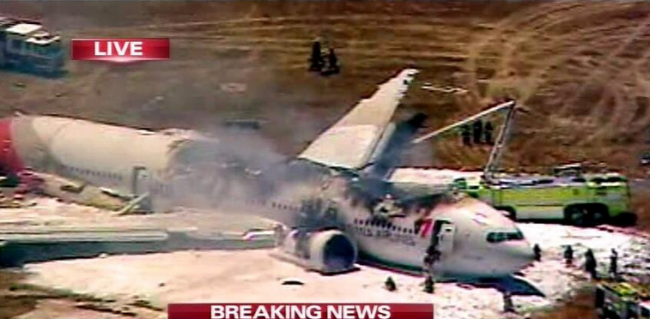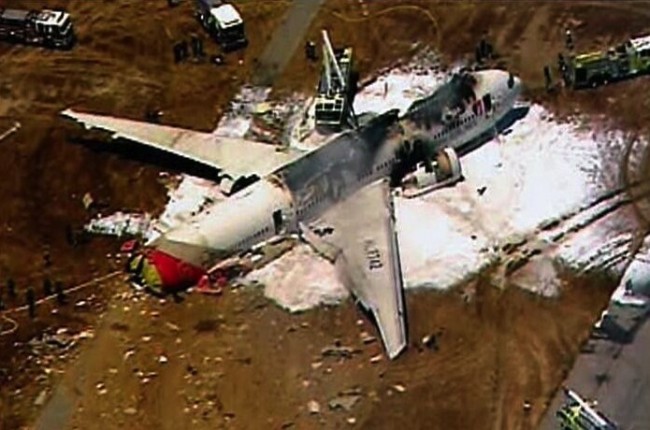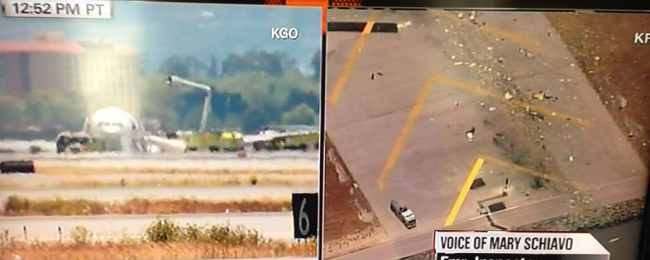 UPDATE 4:10 p.m.: NBC LA reporting all passengers alive: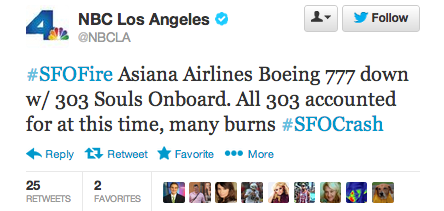 A photo purportedly showing debris of the crash beginning at start of the runway: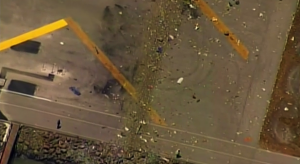 Footage following the crash:
UPDATE: 4:52 p.m.: KTVU is confirming two dead, sixty-one injured. Victims are on their way to San Francisco General Hospital. About 300 passengers were estimated to have been aboard.
Facebook's Chief Operating Officer Sheryl Sandberg says was supposed to have been on that flight. She wrote the following on her Facebook page:
Taking a minute to be thankful and explain what happened. My family, colleagues Debbie Frost, Charlton Gholson and Kelly Hoffman and I were originally going to take the Asiana flight that just crash-landed. We switched to United so we could use miles for my family's tickets. Our flight was scheduled to come in at the same time, but we were early and landed about 20 minutes before the crash. Our friend Dave David Eun was on the Asiana flight and he is fine.

Thank you to everyone who is reaching out – and sorry if we worried anyone.
UPDATE 5:26 p.m.: More photos: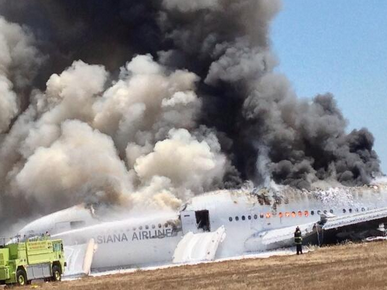 UPDATE 8:26 p.m.: KTVU reporting that 27 people injured in the plane crash are now being treated at San Francisco General Hospital. A hospital spokeswoman says that tents are being set up outside the emergency room and additional staff is being called in.
UPDATE 8:55 p.m.: Asiana Airlines issued a press release providing more information about the number of people on board and the investigation currently underway.
There were a total of 291 passengers (19 business class, 272 travel class) and 16 cabin crew aboard. The majority of the passengers were comprised of 77 Korean citizens, 141 Chinese citizens, 61 US citizens, 1 Japanese citizen, etc. for a total of 291 people.

Asiana Airlines is currently investigating the specific cause of the incident as well as any injuries that may have been sustained to passengers as a result. Asiana Airlines will continue to cooperate fully with the investigation of all associated government agencies and to facilitate this cooperation has established an emergency response center at its headquarters.
And the SFO has now released updated numbers on the number of people injured.
UPDATE 9:16 p.m.: Another photo from the scene.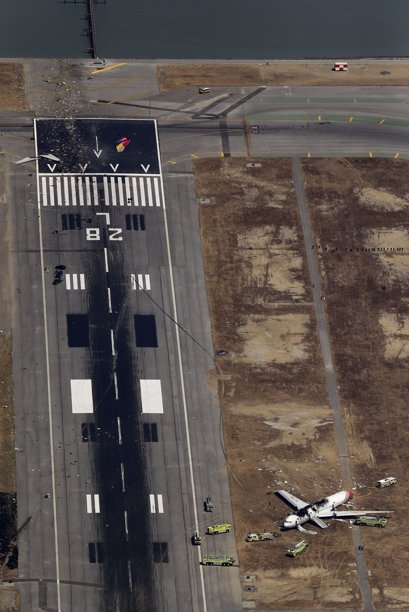 —
>> Follow Evan McMurry (@evanmcmurry) on Twitter
Have a tip we should know? tips@mediaite.com