Australian Deputy PM: 'Cranks And Crazies' In GOP Are 'Biggest Threat' To U.S. Economy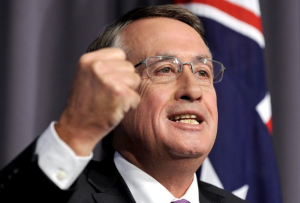 Australian Deputy Prime Minister Wayne Swan took a critical look into U.S. politics on Friday when he warned that the "cranks and crazies" who have taken over the Republican Party are the greatest threat to the country's economy.
The remarks came during a business forum in Sydney, Australia where Swan — who also "serves as treasurer and is his center-left Labor Party government's ranking finance minister" — was speaking.
"Let's be blunt and acknowledge the biggest threat to the world's biggest economy are the cranks and crazies that have taken over the Republican Party," Wayne said, alluding to the Tea Party. More specifically, he spoke about the Republicans' involvement in the last (painstaking) round of debt ceiling negotiations.
Swan went on to add: "Despite President Obama's goodwill and strong efforts, the national interest was held hostage by the rise of the extreme Tea Party wing of the Republican Party."
While NBC News noted that "Australian politicians rarely launch such blunt criticism of their counterparts in the United States, Australia's most important strategic ally," Swan's comments were back by the country's prime minister, Julia Gillard, who deemed them "appropriate."
"What happens in the U.S. economy matters to the world economy and it matters to us," she told reporters. "Wayne Swan was making that very common sense point today."
But Swan was also met with criticism from Australia's conservative opposition.
"The Labor Party is peddling hatred and they're got to stop," opposition treasury spokesman Joe Hockey told reporters. "They hate the Republican Party. I'd like Wayne Swan to say something positive about someone somewhere."
Australia has "long maintained that its close relationship with Washington, and its 61-year-old defense alliance, remains strong regardless of who is in the White House."
(H/T NBC News)
Have a tip we should know? tips@mediaite.com