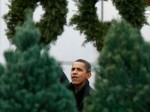 "Bunny from Kansas" called in to C-SPAN yesterday morning, angered by the passage of Health Care through the Senate — and she did something about it. "I am so disappointed. I have taken my Christmas tree down, I have taken my Christmas wreath off my house. I have taken all the lights down," she told host Peter Slen. "This is supposed to be a Nation Under God, and it isn't. They have absolutely have ruined Christmas for all of the Senators and Representatives that are supposed to be under God. This is God's holiday for the birth of his son!" Not, apparently, for widespread health care coverage.
Slen asked, slightly disbelievingly: "So you took down your Christmas tree because of the Senate health care bill?" Bunny responded, "I certainly did. And I would like to see every light in the nation go out. Especially in the White House." O-kay.
This actually is a really sad call, because the reason she cites — that Health Care is "divisive" for her and her son — is indicative of just how many people out there really do still think that Obama is trying to force death panels on the seniors of America. Bunny uses the phrase "Genocide on the seniors" – almost six months after people like Sarah Palin and Betsy McCaughey unleashed this destructive, undermining myth on the country. "What are we doing paying these people to kill other people? Because that's what they do." Wow. No points to C-SPAN host Slen, either, for shuffling her off with an indulgent, "All right." Correct the record, dude.
Here's the video:
Have a tip we should know? tips@mediaite.com