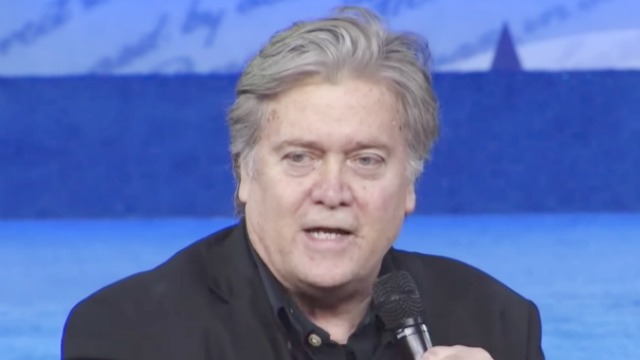 Steve Bannon spoke to The Economist days after leaving the White House, and something he wanted to make very clear in the interview is that they consider him "the enemy."
Why? As Bannon explained to Economist Washington Correspondent James Astill, "You support a radical idea, free trade. I mean it, that's a radical idea."
The one thing the former White House chief strategist has made abundantly clear in a number of interviews is that he and Breitbart aren't turning on President Trump, but they'll be going after the people around him getting in the way of his agenda. As Bannon told The Economist:
Mr Bannon says he will never attack his former boss. Yet Breitbart will caution Mr Trump to stick to the populist nationalist course Mr Bannon charted. "We will never turn on him. But we are never going to let him take a decision that hurts him"…

Breitbart will in particular try to intimidate Mr Trump's Republican critics—and thereby remind the president who his friends are. "I am an ideologue, that's why I am out," says Mr Bannon. "I can rally the base, have his back. The harder he pushes, the more we will be there for him."
Bannon even went so far as to say, "In the White House I had influence. At Breitbart, I had power."
One person he singled out was Mitch McConnell, the Senate Majority Leader. As Bannon put it, "I'm going to light him up."
He also sounded off on the campaign, saying, "The American people understood his foibles and understood his character flaws and they didn't care… The country was thirsting for change and [Barack] Obama didn't give them enough. I said, we are going for a nationalist message, we are going to go barbarian, and we will win."
You can read the entire Economist piece here.
[image via screengrab]
— —
Follow Josh Feldman on Twitter: @feldmaniac
Have a tip we should know? tips@mediaite.com
Josh Feldman - Senior Editor