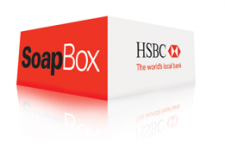 How bored or self-important does a person have to be to make a name for themselves posting in the comments section of a blog? Ever wonder how these people have time to pay the bills? Wonder no longer. Being a blowhard pays! And not just on cable news.
Five commenters on New York magazine's Daily Intel blog have just hit the jackpot. Thanks to a new online advertising scheme from the British bank HSBC, "The world's local bank," commenting has become a paying gig.
Today HSBC launched a new online "SoapBox" advertising campaign, tag-lined: Join the Values Conversation. HSBC has created a website with four different discussion threads — education, jobs, technology and water — and they are attempting to prompt discussion with questions like, "Tap water or bottled water? Is there anything you find hard to give up in your effort to be more sustainable? How do we get people to be less wasteful?" Anybody can chime in with a response to the questions on the site, even without entering an email address.
And who better to kick-start the values conversation than five of the most prolific commenters from New York's Daily Intel blog? The five commenters, who boast over 5,000 comments collectively on Daily Intel posts, are responsible for the majority of the comments on the advert site in its first day. Still no word on how well they are being compensated for their work, just that they are being compensated.
This arrangement presents the best of both worlds for HSBC advertising suits, who turned to Daily Intel commenters as relatively sane people with the chops to keep an online comments section going yet still preserve the man-on-the-street feel that keeps this sort of marketing from feeling totally contrived.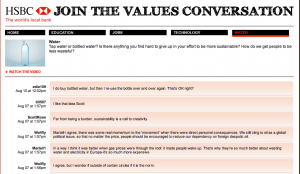 At least two regular Daily Intel commenters declined to participate, according to comments they left on the DI post about the campaign.ComfortablySmug, who has posted 1186 comments on Daily Intel to date, turned-down HSBC:
I'd like to be able to say whatever I like and a conflict of interest would more than likely occur with a sponsor (I mean, how much would HSBC like me talking shit about commercial banks) That said, I think it's an interesting idea and they have some quality commenters that are taking part.
Wallfly, one of the commenters who is participating in the HSBC campaign, told The Wall Street Journal that he isn't worried about falling under scrutiny for pariticipating:
It'll be interesting, because we're not even bloggers. To the extent that bloggers get some backlash for shilling for things, I'm not even sure what the etiquette or the politics of this is … First, I'm not an actual person with a blog or a following or a market or anything like that, and second, we're participating in a campaign, but nothing we discussed really had anything to do with financial services.
Other commenters on Daily Intel seemed to happy, even proud, to see some of their own receiving added attention and money, even under the auspices of something so far removed from editorializing alongside their fellow Daily Intel fans. "Crazy!! I'm so proud of you guys! Paid to comment — you're living the dream!," wrote LZA.
"I'm really glad Gawker commenters got snubbed. I honestly think the majority of them are wannabe Adam Sandlers with social disorders," wrote SARCASTICMEOW. "However there is NOTHING worse on the internet than a Jezebel commenter." Snap! Let the paid comments begin.
Have a tip we should know? tips@mediaite.com