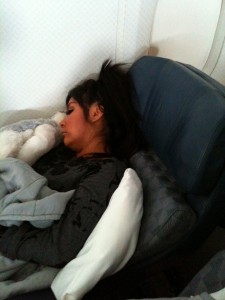 This morning, Fishbowl DC ran a funny little item about mediabistro founder Laurel Touby's in-flight run-in with two of the Mid-Atlantic's most florescent young women: Nicole "Snooki" Polizzi and Jennifer "JWOWW" Farley. (Disclosure: I worked at mediabistro – as Newsfeed editor and an editor at Fishbowl NY – before coming to Mediaite.)
The story described a scene one might come to expect if one has ever watched an episode MTV's Jersey Shore: a needlessly heated conversation, and some huffing and/or puffing thrown in for good measure. It included a picture of Snooki, sans signature poof, curled up in her seat, clutching a stuffed animal as she dozed. Touby was not amused by the interaction, to say the least:
"It was gag inducing," said Touby, who suffers from Prosopagnosia (more commonly known as Face Blindness) and had no idea who they were. It's not personal. She didn't recognize Robert Redford when she saw him in a movie, and was once introduced to a "short man" at a party who turned out to be New York Mayor Mike Bloomberg. "They acted like queens," Touby continued of JWoww and Snooki, who she called "self-important bitches" on Twitter.
At the time of the unpleasant run-in with the two Ed Hardy aficionadas, Touby turned to Twitter to ask whether anyone could identify the snarling "Suki" seated in front of her: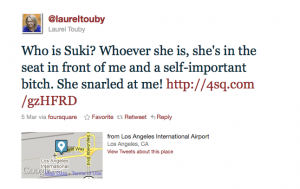 …She even snapped a "sneaky shot" of the sleeping reality star in the hopes of figuring out her identity – the same image later used in the Fishbowl DC post on the unfortunate meeting: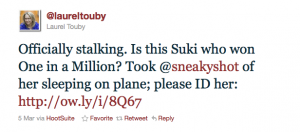 This morning, Snooki took to Twitter to air a grievance of her own: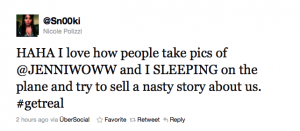 We're pretty sure Snooki is not a regular reader of Fishbowl DC (I mean, really. What "New York Times best selling author" has the time for reading blogs, anyway?), or else she'd have known that Touby wouldn't have any need to "sell" a photo to the very blog network she helped create.
The moral of the story? Um. Don't poke a sleeping Suki?
h/t FishbowlDC
Have a tip we should know? tips@mediaite.com