Beyoncé Asked the Blaze's Tomi Lahren If She Could Use That Anti-'Formation' Tirade on Tour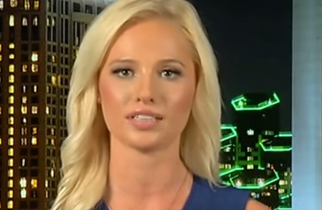 Surely you remember when Tomi Lahren of the Blaze went o-f-f on Beyoncé's Super Bowl halftime performance of "Formation." She hated everything about it. From what she perceived as a violent support of the Black Panthers to how unfair it was for little white girls and white football fans who couldn't relate to the black dancers and imagery, Lahren tore it all up. She repeated her talking points during an interview with TMZ a few days later and then the issue disappeared like so much lemonade being poured from the pitcher of time.
When this first happened back in February, I wrote, "If Beyoncé ever responded to her dramatics, Lahren's career would be toast, which she knows."
Well, I hate to say I told you so, but I definitely told you so. Beyoncé recently announced her new Formation tour, which will undoubtedly be all the more popular since the release of the Lemonade visual album on HBO last Saturday. In preparation for the tour, Bey and her team requested that Lahren license them the first 30 seconds of the anti-halftime show rant that made her an Internet celebrity. Lahren said no. See? She knows.
It is not likely that the audio or video from the segment would have been used to make Lahren look good, so her refusal to sign her voice and image over to them makes sense. After seeing how Bey and Co. hung Jay Z out to dry on Saturday night, she's probably grateful she had the foresight to turn down the offer.
Whether Hov or Lahren deserve the wrath of Queen Bey is subjective, but one thing is certain: She and her crew are in formation and ready to drag anyone who crosses them.
[image via screengrab]
For more from Lindsey, follow her on Twitter or Facebook.
Have a tip we should know? tips@mediaite.com