Biased, Frivolous And Liberal: Poll Shows Most Americans Still Distrust The Media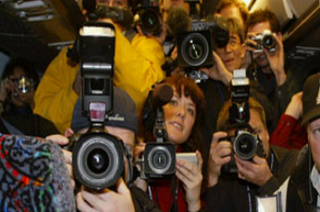 A new poll from Pew Research measuring public perceptions relating to the media shows that the public overwhelmingly finds the news media to be biased, dishonest, and focused on trivial issues. A plurality also view the news media as exhibiting a liberal bias. The public did, however, give the media high marks for being "highly professional" and holding political leaders accountable.

While most Americans believe that the media does a poor job of getting "the facts straight" or being independent and fair to all sides of an issue, the number of Americans who feel the press is a good watchdog institution has jumped from 58 percent in 2011 ago to 68 percent today. This result may reflect the recent investigative reporting surrounding the National Security Agency's communications monitoring programs and the Department of Justice's investigation of journalists — revelations which were protested by public officials.
Most of the findings in Pew's latest poll, however, are not complimentary to the news media. 67 percent of respondents think the press often gets the facts wrong. 75 percent say the news media is too often influenced by people in positions of authority. 76 percent said that news organizations too often take sides when reporting on contentious issues.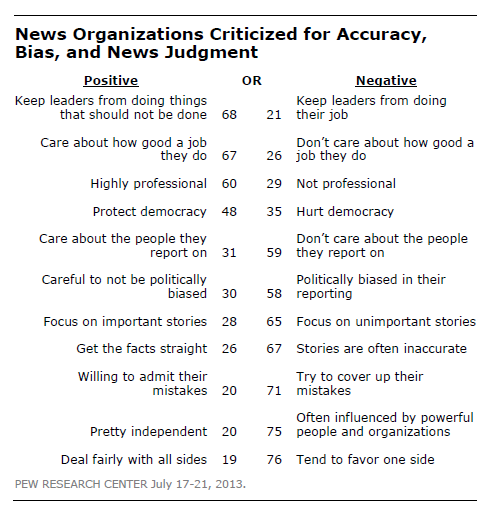 A plurality, 46 percent, thought that most media organizations could best be described as "liberal" while 26 percent said that the media was largely "conservative." While a majority of Republicans and a plurality of independents view the media as being "liberal," self-identified Democrats are split down the middle. 36 percent of Democrats describe the media as being "liberal" while 37 percent consider the press "conservative."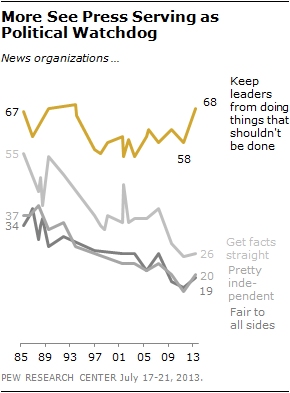 Pew also found that the public's media consumption habits are changing rapidly. In 2011, 43 percent of adults consumed their news and information from the internet. Today, 50 percent of adults use the internet as their primary source for news and information. In 2001, 13 percent said the same.
Only 28 percent said that newspapers were where they got most of their information. In 2001, 45 percent cited newspapers as their main source for information.
The biennial Pew survey about public attitudes toward media was conducted from July 17 – 21 of 1,480 adults and has a margin of error of
> >Follow Noah Rothman (@NoahCRothman) on Twitter
Have a tip we should know? tips@mediaite.com