Bill Clinton Was 'Tickled' By Governor Perry's Announcement: 'He's A Good Looking Rascal'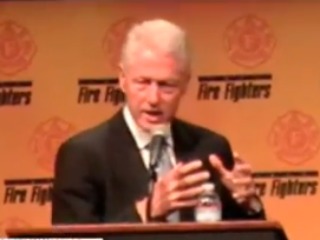 This morning, former president Bill Clinton addressed members of the International Association of Fire Fighters in midtown Manhattan, sharing his thoughts on that handsome Texan, Rick Perry, and the views he has regarding the role of government — and the blame it is due for overstepping this role.
Said Clinton:
This is about whether you believe America is a country where we do best when we share the responsibilities and share the benefits and where we try to create a future that we share. And for 30 years now, we've been more and more into the hands — politically — of people who tell us that the government is the source of all the problems. You name a problem, the government's the problem. If we just had lower taxes, fewer programs and weaker regulation. Cutting the cancer of government out of our lives all… [inaudible]

I got tickled by watching Governor Perry announce for president. He's a good looking rascal.

And he's saying 'Oh, I'm going to Washington to make sure that the federal government stays as far away from you as possible… while I ride on Air Force One and that Marine One helicopter and go to Camp David and travel around the world and have a good time.'

I mean, this is crazy.
Clinton added that criticizing the government is, essentially, inherent in being American — heck, it even helped us found this great country of ours. But, he said, you cannot have a good economy in this day and age without an effective government.
Take a look at his speech:
h/t PolitickerNY
Have a tip we should know? tips@mediaite.com