Did Bill Keller Compromise NY Times Coverage Of Fox News By Criticizing Fox News?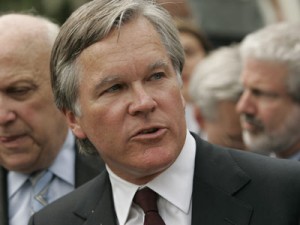 In an interview with The Daily Beast's Howard Kurtz, NY Times Executive Editor Bill Keller defended the NY Times ability to cover Fox News objectively, despite comments he made that were critical of the cable news network and the people that regularly watch Fox News. Speaking specifically about his media reporters, Keller claimed "they are professionally indifferent to that fact that Fox maintains a stable of commentators who make a good living bashing the Times." But did Keller compromise the editorial objectivity of his staff and paper by openly attacking an entity so often in the news?
First, some background. Last Thursday, Keller remarked to an audience at CUNY Graduate School of Journalism when asked about Fox News. Keller called viewers of Fox News "among the most cynical people on planet Earth," before adding "I cannot think of a more cynical slogan than 'Fair and Balanced.'" The next day, NY Magazine writer Gabriel Sherman asked via Twitter "Wonder if Keller's comments trashing Fox News will hurt his reporters' ability to cover Fox and Ailes."
This was the subject of Kurtz's piece in The Daily Beast, the heart of which is excerpted below:
I emailed Keller to ask whether those strong words could suggest a biased approach to Fox, which has had more than its share of complaints about the Times' coverage (and that of other news organizations as well).

"First of all," he responded, "the question of whether Times reporters can write fairly about Fox is answered by the fact they do it, over and over. Tim Arango, Dave Carr, and Brian Stelter have set the standard for fair, tough, incisive coverage of Fox, its business, and its on-air personalities.

"As far as I can tell, they are professionally indifferent to that fact that Fox maintains a stable of commentators who make a good living bashing the Times."
Kurtz gives Keller somewhat of a pass, pointing out that the beat reporters at The NY Times most likely don't want their work to be seen as having a similar viewpoint as that of the NYT's editorial page, just as the reporters on the news side of Fox News probably wouldn't want to be viewed as sharing the same opinion as Glenn Beck or Sean Hannity for example.
But it's more that that. Keller oversees all of the editorial output at the NY Times. So it is not unreasonable for those at Fox News to wonder whether one of Keller's writers could now write anything positive about Fox without thinking about how it might affect his or her standing with the guy at the top of the masthead. Further, if Michael Clemente, Fox News' SVP of News were to claim that readers of the NY Times were among the "most cynical people on earth," or came out and attack the very subjects that his reporters are covering, there would likely be criticism.
It is also not unfair to say that Keller's comments puts his media reporters in somewhat of a precarious and compromising position by speaking so candidly about as controversial a subject as Fox News. At the very least, it will lead people to scrutinize their stories more closely. Last year David Carr and Tim Arango wrote a lengthy profile of Fox News chief Roger Ailes for the NY Times that was seen by most as fair and accurate. NY Times other media writer Brian Stelter seems willing to share his own nuanced opinions about Fox News via his Twitter feed.
The crux of the issue may be that Fox News now seems more comfortable in it's own political skin, defending its news side coverage as objective, while admitting that most of their prime time hosts lean right. Has the NY Times come to grips with the political bent of its editorial team? Regardless, Keller's comments are certain to fuel public perception that the NY Times is at odds with Fox News. This isn't an issue of a cable news outlet taking a shot at a competitor for being "fair and balanced". The NY Times news reporters cover Fox News, which puts Keller's comments in a different light. Nor is this an opinion issue; Fox News' prime time lineup sell a lot of soap ripping the NY Times on a nightly basis, but they are the equivalent of the NY Times op-ed team of Gail Collins, Frank Rich, and Nicholas Kristof ripping Fox News. It seems fair game for the participants of the opiniotainment racket to take shots at one another. But this seems more like a "news on news" battle, one that appears to ratchet up with each passing week.
When reached by Mediaite, NY Times' Media editor Bruce Headlam had no comment on Keller's statements or Kurtz's piece. Keller's critique of Fox as a news organization is well within his field of expertise, and many Fox News detractors will see his comments as not just substantive, but accurate. Slate's Media reporter Jack Shafer doesn't have a problem with Keller's comment and its affect on objective reporting, telling Mediaite "I care about accuracy and fairness, both of which are more easily measured than objectivity."
But Keller can't have it both ways: he can't criticize one news organization for a predisposition without coming clean about his own paper's political leanings. And while Headlam refrained from commenting on any repercussions, it will likely make his job harder. Thanks boss!
Have a tip we should know? tips@mediaite.com