Billboard Mocked For Unfortunate Typo in Headline on Carrie Underwood's 'Dong'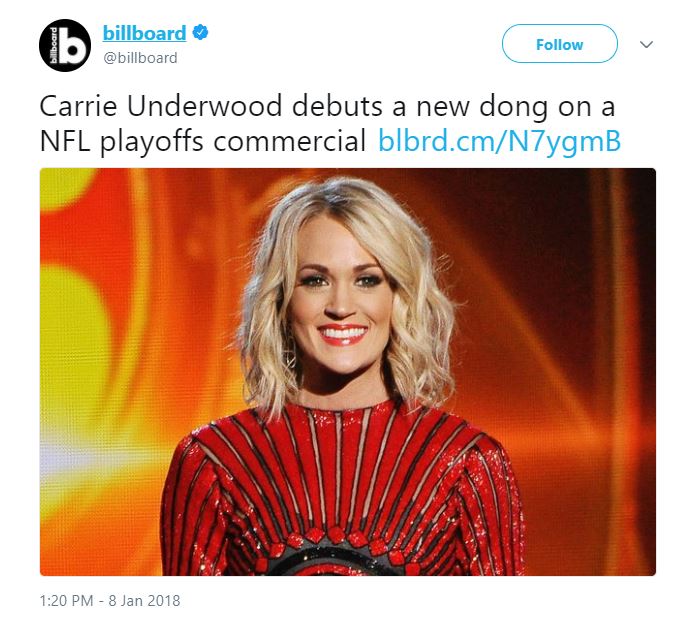 A staffer for Billboard made the unfortunate mistake of replacing the s in "song" with the letter d, making a tweet about Carrie Underwood's upcoming release focus on the country singer's "dong" instead of her music.
"Carrie Underwood debuts a new dong on a NFL playoffs commercial," tweeted the brand's account this afternoon.
While Billboard was quick to take down their post, like anything thrown out online, the spelling error was gone but not forgotten as many took to mocking the mistake.
So apparently Carrie Underwood has a new dong she'd like to show everybody

— Pardes Seleh (@PardesSeleh) January 8, 2018
Billboard's social media manager is about to have a bad day pic.twitter.com/MAL8cIiaeG

— Kami Mattioli (@Kami) January 8, 2018
Stop this transphobia, @billboard pic.twitter.com/ZeXgaBXqBW

— Ben Shapiro (@benshapiro) January 8, 2018
good for her. live your life.

— pourmecoffee (@pourmecoffee) January 8, 2018
They later re-posted the tweet — minus the "dong." However, the brand's corrected post mostly received responses from users that want the typo-included post to remain up.
i liked the other tweet better

— josh terry (@JoshhTerry) January 8, 2018
Never forget pic.twitter.com/30XZXzsXIQ

— Aaron Garvie (@garvie) January 8, 2018
I was just getting used to the old dong.

— Jay Rawley (@Ric335) January 8, 2018
Someone just got fired.

— Nicole Vowell (@NicoleVowellKSL) January 8, 2018
In the poor Billboard employee's defense, a search of the word "dong" on Twitter will find almost countless similar spelling errors, as a typo in both "song" and "doing" lead one to make the same mistake.
[image via screengrab]
Follow the author on Twitter (@calebecarma).
Have a tip we should know? tips@mediaite.com