'Bizarre to the Point of Alarming': New Report Details Trump's Cable News Addiction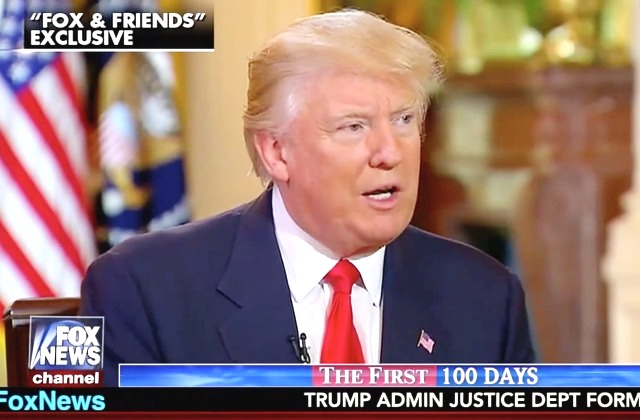 President Donald Trump's affinity for cable news is, by now, very well known. But a Washington Post report released Sunday offers stunning new details on an addiction that one prominent GOP strategist told the paper is "bizarre to the point of alarming."
The Post's report quotes Trump telling advisers and friends that he has "the world's best TiVo." He watches religiously in the morning — reportedly flipping between Fox News, Fox Business, CNBC, and MSNBC. Some Trump confidants reportedly told the Post that, despite claims to the contrary, Morning Joe is still on the President's radar. Occasional Trump Tweets rebutting opinions of host Joe Scarborough would seem to confirm that he continues to monitor the program.
Throughout the day, Trump apparently keeps tabs on the shows — watching the broadcasts in a dining room near the Oval Office. At night, it's reportedly off to the residence where he catches up on the primetime shows — which he is said to "hate-watch". (CNN's Anderson Cooper believes he falls into this category. In February, Cooper told NBC's Seth Meyers that Trump "watches me on CNN probably more than my mom watches me.")
Republican strategist Rick Wilson was quoted in the report saying "a number of Republicans in Congress and in establishment party circles find the president's habits bizarre to the point of alarming."
Wilson claimed that Trump "is a TV character to [the Republican establishment], and they have to navigate around it."
If Trump is a TV character to the GOP establishment, the report also suggests that key figures in Trump's administration are little more than TV characters to the President. As we posted about Sunday, White House Press Secretary Sean Spicer is reportedly in no danger of losing his job because Trump appreciates Spicer's Nielsen prowess.
"That guy gets great ratings," Trump reportedly said. "Everyone tunes in."
[image via screengrab]
——
Follow Joe DePaolo (@joe_depaolo) on Twitter
Have a tip we should know? tips@mediaite.com
Joe DePaolo - Senior Editor