Bloomberg to Harvard Grads: Ivy League Liberals 'Repress Conservative Ideas'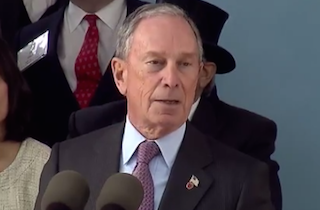 Former New York City Mayor Michael Bloomberg delivered a surprisingly harsh condemnation of Ivy League "liberals" during his commencement address at Harvard University on Thursday. Comparing the "censorship" seen on campuses to a "modern-day form of McCarthyism," Bloomberg called on students to be more open-minded and accepting of conservative views.
"If you want the freedom to worship as you wish, to speak as you wish, and to marry whom you wish, you must tolerate my freedom to do so — or not do so — too," Bloomberg said. "What I do may offend you. You may find my actions immoral or unjust. But attempting to restrict my freedoms in ways that you would not restrict your own leads only to injustice."
He went on to say that he believes the "forces of repression" at universities are "stronger now than they have been at any time since the 1950s." That line got some mild applause from the crowd, which grew stronger after Bloomberg paused to give his audience permission to clap.
"In the 1950s the right wing was attempting to repress left-wing ideas," Bloomberg said. "Today on many college campuses it is liberals trying to repress conservative ideas even as conservative faculty members are at risk of becoming an endangered species."
Earlier this graduation season, conservatives were angered when Condoleezza Rice was forced to withdraw from making a speech at Rutgers University over threats of student protests. When former Chancellor of U.C. Berkeley Robert Birgeneau did the same after protests from students at Haverford College, his replacement, former Princeton President William Bowen criticized the students for their "immature" and "arrogant" behavior.
Watch Bloomberg's full speech below, via Harvard:
[Photo via screengrab]
— —
>> Follow Matt Wilstein (@TheMattWilstein) on Twitter
Have a tip we should know? [email protected]