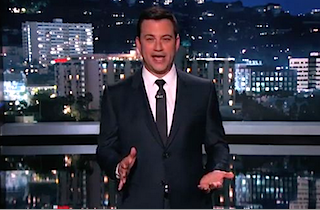 With the news that former Microsoft CEO Steve Ballmer is poised to buy the L.A. Clippers for a record $2 billion, ESPN's Bill Simmons invited his old friend Jimmy Kimmel on his B.S. Report podcast to discuss what the new ownership could mean for the NBA franchise. Mostly, Simmons wanted to know what he thinks Ballmer should rename the team now that Donald Sterling has tainted it with his racist rants.
"Has there ever been a worse punishment than paying someone $2 billion?" Kimmel wondered towards the beginning of their conversation. When Simmons asked him for his ideas for a name that will help the Clippers "rebrand" in the post-Sterling era, Kimmel said he had a "great idea" that just popped into his head.
"I suggest, in honor of recent events and really to kind of quell all of the problems that have happened around the Clippers, they name the team after Dr. Maya Angelou," Kimmel said. "Maybe the Los Angelou Mayas or something like that?" he suggested.
"I mean this could be great, we could get Oprah back into this," Kimmel added, in reference to rumors that Oprah Winfrey was interested in buying the team herself.
As Simmons noted, the city could then have both the Los Angeles Angels and the Los Angeles Angelous. Hey, stranger things have happened.
Listen to audio below, via ESPN:
You can hear the full podcast at grantland.com.
[Photo via screengrab]
— —
>> Follow Matt Wilstein (@TheMattWilstein) on Twitter
Have a tip we should know? tips@mediaite.com