Boehner Defends McCarthy's Hillary Comments: Benghazi Panel Was Never About Her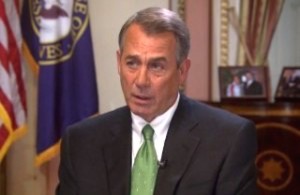 In the wake of Rep. Kevin McCarthy's remarks that connected the Benghazi investigation to Hillary Clinton's recent slip in the polls, she and numerous others have accused the committee of turning the tragedy's investigation into a hit job on her presidential run.
McCarthy has been tapped as a potential favorite to become the next Speaker of the House, and John Boehner released a statement today in defense of his deputy.
"This investigation has never been about former Secretary of State Clinton and never will be," Boehner said. "The American people deserve the truth about what happened in Benghazi. That's always been our focus, and that's going to remain our focus."
Boehner went on to say that the Obama administration had only themselves to blame, citing "obstruction of routine congressional investigations and its failure to properly comply with subpoenas and document requests." He accused Clinton and President Obama of repeatedly attempting to derail and delay the investigation, though he promised that the panel would carry on.
"The members of this committee have worked diligently and professionally to fulfill this important mission and they will continue to do so," Boehner said.
McCarthy's controversy originated from a Tuesday interview with Sean Hannity, where he said, "everybody thought Hillary Clinton was unbeatable, right? But we put together a Benghazi special committee, a select committee. What are her numbers today? Her numbers are dropping. Why? Because she's un-trustable."
[h/t Fox News]
[Image via screengrab]
— —
>> Follow Ken Meyer (@KenMeyer91) on Twitter
Have a tip we should know? tips@mediaite.com