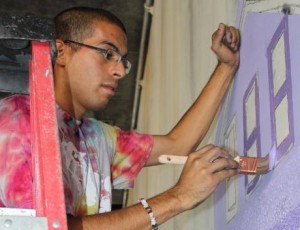 A muralist was shot and skilled on Tuesday night under a highway overpass in Oakland, California, where he was painting an anti-violence art piece.
According to the Los Angeles Times, Antonio Ramos was working on a new section of the Oakland Superheroes Mural Project, which he'd been a part of since 2012. The Oakland police did not identify the deceased initially, but the project's Facebook page announced his death late Tuesday night.
Ramos was working on the mural's third section with a group of artists when an unidentified gunman opened fire at around 10:30 a.m. local time. The shooter fled the scene before the police arrived, and when Ramos arrived at the nearby hospital, he was pronounced dead.
"It is with such sadness we share this news and he will be deeply missed," read a statement on the project's Facebook page. "We would like to commemorate him with the creation of this 3rd mural of the Oakland Superheroes Mural Project."
Ramos was described as being "excited" about the project, which he began working on back in 2012, though he wasn't brought on as a paid artist until more recently. "He had a huge smile on his face this morning as he rolled up in his car," said one of Ramos' fellow muralists. "He was a bright light on the team, bringing positivity, humility and dedication to the project."
In a subsequent Facebook post, the project vowed to continue working on the mural, though it also emphasized the need for the artists who were working on it to feel safe. A YouCaring account — a crowdfunding page used for "compassionate" endeavors — was established to raise money for Ramos' family.
[h/t Los Angeles Times]
[Image via Facebook]
— —
>> Follow Andrew Husband (@AndrewHusband) on Twitter
Have a tip we should know? tips@mediaite.com