Both Limbaugh And Huckabee Call For Obama To Send His Family In For A TSA Pat Down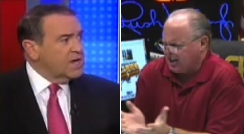 As Reddit goes, so goes the Republican Party? Today both Rush Limbaugh and Mike Huckabee have gone on record as saying that President Obama should send his family through a TSA screening as a sign of good faith, which is the same thing a popular Internet campaign was saying last week. Who would have guessed that conservatives were actually getting their talking points from Reddit? Forget Sarah Palin. Lets look forward to Zach Anner in 2012!
Huckabee made the suggestion on his radio show and then echoed it on Fox & Friends:
"If he thinks this is an appropriate way for us to deal with security as he has defended, then I've said, 'OK, Mr. Obama, take your wife, your two daughters and your mother-in-law to Washington Reagan National Airport and have them publicly go through both the body scanner and the full enhanced pat-down in front of others. And if it's OK for your wife, your daughters, and your mother-in-law, then maybe the rest of us won't feel so bad when our wives, our daughters and our mothers are being put through this humiliating and degrading, totally unconstitutional, intrusion of their privacy.'"
Meanwhile, on his radio show, Limbaugh compared it to Obama going swimming in the Gulf with his daughter after the oil spill to show that it was safe.
It will be interesting to see if any other opponents of the TSA measures join in on this call. It will also be interesting to see what Huckabee and Limbaugh's opinions are on the new Elder Scrolls sequel. I mean, I'm sure they're both psyched to return to the mythical land of Cyrodiil, right?
Check out the clip of Huckabee from Fox News below and the clip of Limbaugh below that:
Have a tip we should know? [email protected]