Viral Junk Video of the Day: Woman Stands Up to Guy Who Won't Keep His Junk to Himself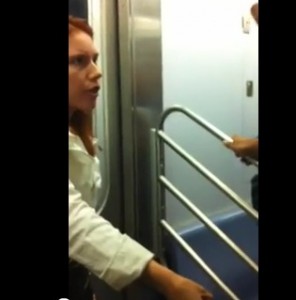 In the midst of a news cycle dominated by a viral videographer who falsely equates airport security pat-downs with sexual assault, as if on cue, a new YouTube star has emerged to put the whole thing in perspective.
The website Hollaback, dedicated  to "ending street harassment using mobile technology," has posted a video of a young woman standing up to a real sexual assault (a flasher on the subway), and catapulted the tough-as-nails heroine to viral stardom. (h/t Salon)
Here's the video, which features some extremely NSFW language:
This video should serve as a deterrent for other would-be "flashers," an arcanely innocuous term for these predators, but as Salon notes, the clip isn't only getting the right kind of attention:
Curious about the traffic this winner of a video (which you will find below) was getting, I clicked over to YouTube and found that one of the top referrals comes from www.dickflash.com. Naturally, I couldn't help peeking under that virtual rock and watching all the creepy crawlies slithering about.

As you might have guessed, it's a message board site for "exhibitionists." (I put that in quotes because non-consensually thrusting your naked bits on unsuspecting others is more accurately "harassment" or "assault.") A user shared a link to the video and the comments came streaming in…
Those comments were actually cruder, in some cases, than the actual act. Go read them, if you've got the stomach. Either way, I've heard people talk about wearing kilts and/or making sex noises as a way to get back at TSA screeners, and I hope this video disabuses them of such notions. Two wrongs don't make a right.
Have a tip we should know? tips@mediaite.com