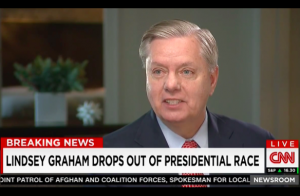 CNN announced this morning that Lindsey Graham will be suspending his bid for the 2016 presidency. The South Carolina senator will reportedly make the announcement official in an email to supporters later today.
BREAKING! @GrahamBlog tells @KateBolduan he is dropping out of the Presidential race. Full interview at 11a on @ThisHour on @cnn

— John Berman (@JohnBerman) December 21, 2015
"I'm going to suspend my campaign. I'm not going to suspend my desire to help the country," Graham reportedly said. "I've hit a wall here."
During Graham's interview with Kate Bolduan, Graham said that he thought his ideas resonated with conservative voters, but that his campaign's demise came from not being able to get heard by enough people. He expressed frustration with being kept in the RNC undercard debate, and said the two-tiered arrangement should not be reused in the future.
When asked who he would endorse, Graham stated, "I have no intention of endorsing anyone right now." The senator did say, however, that despite his gripes with Donald Trump, Graham would support the Republican nominee, even if it came down to Trump versus Hillary Clinton.
Watch a report on the story in the video above, via CNN.
UPDATE: 9:57 A.M. EST Graham released a video on his official YouTube account, offering thanks for his supporters and for the chance to talk about national security and the various issues captivating America.
"I said that any candidate that did not understand that we need more American troops on the ground in Iraq and Syria to defeat ISIL was not ready to be commander-in-chief," Graham said. "I am far more confident today that our party will reject the Obama doctrine of leading from behind and will provide the strong leadership America needs to restore our military, take the fight to our enemies and do what it takes to make our country safe and preserve our way of life."
[image via screengrab]
— —
>> Follow Ken Meyer (@KenMeyer91) on Twitter
Have a tip we should know? tips@mediaite.com