Breitbart 'Defense' of Female Reporter Grabbed By Trump's Lewandowski Truly Limp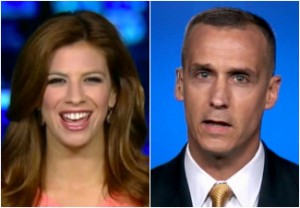 Michelle Fields is a conservative pundit you may have seen on Fox News before. She's also a reporter for Breitbart.com – hired by the publication in November of last year. And today, she's an unwilling participant in a story for all the wrong reasons regarding his reporter role… reasons not remotely the fault of Fields.
Summary: At a Donald Trump press conference two days ago, Fields tried to ask the candidate a question as he came down from the stage podium and wandered across the room, talking to reporters along the way. Here's what happened next, according to Fields in a column with her account today:
I wasn't called upon to ask a question during the televised press conference, but afterwards Trump wandered around, stopping at every reporter to take their questions. When he approached me, I asked him about his view on an aspect of affirmative action.

Trump acknowledged the question, but before he could answer I was jolted backwards. Someone had grabbed me tightly by the arm and yanked me down. I almost fell to the ground, but was able to maintain my balance. Nonetheless, I was shaken.

The Washington Post's Ben Terris immediately remarked that it was Trump's campaign manager, Corey Lewandowski, who aggressively tried to pull me to the ground. I quickly turned around and saw Lewandowski and Trump exiting the building together. No apology. No explanation for why he did this.
Normally in any situation like this, one's employer would forcibly have its reporter's back via a strongly-worded statement and even a few phone calls if necessary to someone like Lewandowski or even Trump, who has the power to reprimand or even terminate his campaign manager — you know… the same tough guy who flexes his muscle against women about half his weight — for this unacceptable, even criminal action. Remember, Trump now has been afforded Secret Service protection. There was absolutely no reason for a campaign manager to be that close to Fields physically, let alone jolting and grabbing here.
But for its part, Brietbart has only sent out what can only be characterized as a limp statement that kinda-sorta defends its reporter. Per Breitbart CEO and President Larry Solov to Politico:
"It's obviously unacceptable that someone crossed a line and made physical contact with our reporter. What Michelle has told us directly is that someone "grabbed her arm" and while she did not see who it was, Ben Terris of the Washington Post told her that it was Corey Lewandowski. If that's the case, Corey owes Michelle an immediate apology."
Wow… the first-name basis thing with "Corey" is a nice touch by Solov, don't you think? As is referring to him as "someone" in the first sentence when he knows damn well who was involved here. But again, what's missing here is most notable: A column slamming Lewandowski and Trump on Breitbart.com itself… a publication that has become the #1 go-to for all-things-favorable to the GOP frontrunner. Of course, no such column or statement exists outside of a summary of the Politico column on its own statement… because we wouldn't want to offend anybody, now would we?
As for Lewandowski himself, the Daily Beast's Lloyd Grove reports his excuse as being that he didn't know Fields worked for Breitbart. In other words, if he had known who employed her, the rough stuff never happens? Good grief. If you're Trump, you suspend or fire this guy if that's his warped thought process and a video emerges showing he did what Fields says he did. Today. And then you apologize to Fields on his behalf, your behalf and behalf of the entire campaign.
Per Grove's report:
The statement was issued in the wee hours of Wednesday morning but remains Breitbart's official comment on the matter, hours after sources said Lewandowski acknowledged to Breitbart's Washington political editor, Matthew Boyle, that he did manhandle Fields.
Lewandowski's explanation to Boyle, said these sources, was that he and Fields had never met before and that he didn't recognize her as a Breitbart reporter, instead mistaking her for an adversarial member of the mainstream media. Trump's press secretary, Hope Hicks, didn't respond to an email seeking comment. Nor did the usually responsive Boyle.
About the only thing that appears to be a true defense comes from editor-at-large Ben Shapiro. Not on Brietbart.com, of course… but far away on Twitter:
By the way, "we didn't know she was Breitbart" is an insane excuse. So you now get to assault journalists from other outlets? What the hell?

— Ben Shapiro (@benshapiro) March 10, 2016
Since when is it okay for campaign managers to assault journalists? What the hell is wrong with these people?

— Ben Shapiro (@benshapiro) March 10, 2016
Lewandowski should be fired. This is not about Michelle being "part of the story." It's about bad people tolerating thuggery.

— Ben Shapiro (@benshapiro) March 10, 2016
Twitter is nice. Fightin' words on your own publication would be more appropriate.
Caught in the middle of all of this is Michelle Fields, who says she wanted no part of this kind of attention. And now she's stuck with an employer who appears to valuing clicks from Trump supporters over truly protecting its reporter from the thug that is Corey Lewandowski.
Either way, she should file charges. And after that, she should bring her talents elsewhere, because no reporter deserves to be treated this way on the trail or off.
2:00 PM EST UPDATE (per Mediaite's Alex Griswold): Breitbart announced Thursday that Patrick Howley, the reporter who publicly doubted whether or not his colleague Michelle Fields was actually manhandled by Donald Trump's campaign manager, has been suspended.
— —
Follow Joe Concha on Twitter @JoeConchaTV
This is an opinion piece. The views expressed in this article are those of just the author.