British Embassy Confirms Krauthammer Right, White House Wrong: Churchill Bust Returned in 2009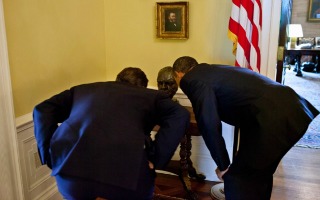 The British Embassy has confirmed that Washington Post columnist Charles Krauthammer was correct when he wrote that a bust of Winston Churchill was removed from the White House when Barack Obama took office. An Obama administration spokesperson slammed Krauthammer on Friday in a fact-checking post on the White House's blog which claimed the columnist was advancing a "ridiculous" rumor that the Obama administration had ever returned the bust. However, the British Embassy has confirmed that it did receive the original bust in 2009 and it currently resides in the U.K. Ambassador's residence. The White House is in possession of another copy of the Churchill bust which is currently located in the White House residency.
That's right, there are two.
RELATED: White House Bashes Krauthammer For Printing 'Ridiculous' Rumor That Obama Returned Bust Of Churchill
White House Communications Director Dan Pfeiffer attacked Krauthammer on Friday for advancing a "patently false" rumor that the White House had ever returned a bust of British Prime Minister Winston Churchill. Pfeiffer produced a copy of the President and U.K. Prime Minister David Cameron observing the bust in the White House as proof. In fact, Krauthammer was factually correct.
On Friday, The British Embassy confirmed to Mediate that they did receive the bust of Churchill which was loaned to the Bush White House in 2009. The bust on display in the White House's residency is a copy:
The bust of Sir Winston Churchill, by Sir Jacob Epstein, was lent to the George W Bush administration from the UK's Government Art Collection, for the duration of the Presidency. When that administration came to an end so did the loan; the bust now resides in the British Ambassador's Residence in Washington DC. The White House collection has its own Epstein bust of Churchill, which President Obama showed to Prime Minister Cameron when he visited the White House in March.
The Embassy concluded by noting that the U.K. and the U.S. share a close and special relationship and the "Churchill Bust story is a silly diversion – let's get on and focus on seeing who wins most medals in the Olympics."
> >Follow Noah Rothman (@Noah_C_Rothman) on Twitter
Have a tip we should know? tips@mediaite.com