Bushmaster Group Owner Wants Out Of The Gun Business, Plans To Sell Company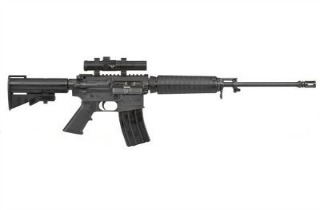 Cerberus Capital Management announced this morning that it plans to sell Freedom Group, the firearms company that produced the .223 Bushmaster rifle used in the Newtown massacre last week.
The father of Cerberus founder and CEO Stephen Feinberg is a resident of Newtown, Connecticut, but it's unclear whether that factored into the firm's decision making process.
The firm's statement expresses sadness and disbelief at the events that took place last week:
We were shocked and deeply saddened by the events that took place at the Sandy Hook Elementary School in Newtown, CT on December 14, 2012. We cannot comprehend the losses suffered by the families and friends of those killed by the unthinkable crimes committed that day. No words or actions can lessen the enormity of this event or make a dent in the pain that was inflicted on so many.
While noting that no "single company or individual can prevent senseless violence or the illegal use or procurement of firearms and ammunition," Cerberus states "there are, however, actions that we as a firm can take."
Accordingly, we have determined to immediately engage in a formal process to sell our investment in Freedom Group. We will retain a financial advisor to design and execute a process to sell our interests in Freedom Group, and we will then return that capital to our investors. We believe that this decision allows us to meet our obligations to the investors whose interests we are entrusted to protect without being drawn into the national debate that is more properly pursued by those with the formal charter and public responsibility to do so.
The statement concludes, "Our thoughts and prayers are with the families and communities impacted by this tragic and devastating event."
Read the full statement here.
—
>> Follow Anjali Sareen (@AnjaliSareen) On Twitter
Have a tip we should know? tips@mediaite.com