California Democratic Party Chair Compares GOP To Nazi Propagandist Goebbels For Telling 'The Big Lie'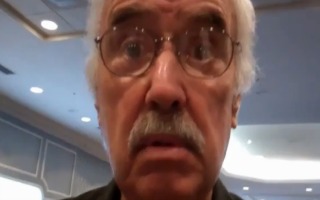 California Democratic Chairman John Burton told reporters at a DNC breakfast in Charlotte, North Carolina, on Monday that the Republican party has embraced the philosophy of Nazi Propaganda Minister Joseph Goebbels by "telling the big lie."

San Francisco Chronicle reporter Joe Garofoli filed a report from the breakfast where Burton made the incendiary comments:
"They lie and they don't care if people think they lie… Joseph Goebbels – it's the big lie, you keep repeating it," Burton said Monday before the Blake Hotel breakfast. He said Ryan told "a bold-faced lie and he doesn't care that it was a lie. That was Goebbels, the big lie."
In a video posted on the Chronicle's website, Burton called Republican vice presidential nominee Paul Ryan a "horse's ass" for making the claim that President Barack Obama was linked to a Janesville, Wisconsin General Motors plant which he promised would continue to produce automobiles under his administration.
Burton called that claim, which Ryan made in his acceptance speech at the Republican National Convention, a "bold faced lie."
When asked about the Democratic party's plan for how they would frame the terms of the election over the week, Burton said that he thought his party would outline the danger that Mitt Romney, Ryan and the GOP present to the country. "That's real danger," said Burton. "That's not bullshit stuff."
Watch the video below via the The San Francisco Chronicle:
h/t The San Francisco Chronicle
> >Follow Noah Rothman (@Noah_C_Rothman) on Twitter
Have a tip we should know? [email protected]