Christian Broadcasting Network Ponders If a Woman in a Tight Dress is Somehow 'Less of a Christian'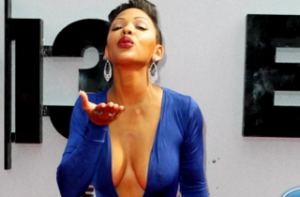 "So how much skin can a woman show before it's a sin?" wondered Charlene Aaron over at the Christian Broadcasting Network. Fascinating question, Ms. Aaron! The important query almost went under the Christian news radar today after Pope Francis, like Jeb Bush and Ben Carson, questioned Donald Trump's purported religiosity, but luckily, we dug it out of the heap to investigate further.
In fact, as the Pope, flying in the Papal plane, endeavored to define Trump's Christianity based on his statements regarding immigration, Aaron, from an office or perhaps a nice coffee shop, sought to similarly define a woman's Christianity using a slightly different barometer: propensity for wearing v-necked shirts.
"What is modesty? And does showing cleavage or wearing tight clothing make a woman less of a Christian?" mused the article as, in New York City, pundits in tight dresses on Fox News' Outnumbered argued over whether anyone ever has the right to question another's assertion that they're a Christian.
Unfortunately, Aaron never reached a conclusion. She shared two examples of self-proclaimed Christian women who dress very differently: the "modest" Ayesha Curry and Meagan Good, who was publicly accused by a scandalized audience member at a recent book signing of having her "breasts showing." (An image of Good in an infamously low-cut dress was used for the header photo on the article, but in the shot, she is turned with her back to the camera. For fairness, we have included the forward-facing shot for you here.)
Since Aaron never told us exactly how much cleavage we can afford to show before we are sinning, I guess it's up to us to figure it out. What do you think? While you come up with your answer, consider things like how much space should be between skin and dress fabric. How many centimeters of cleavage count as not sinful? Is it different for women with bigger proportions? What about men? Can men wear v-necks or is that dicy, too? How do we feel about forearms and ankles? There are no wrong answers here, people, except the ones that send you to hell.
Maybe if she had come up with a conclusion, we'd have a hard and fast guide and we could go back to focusing on the Pope.
[image via screengrab]
For more from Lindsey, follow her on Twitter.
Have a tip we should know? tips@mediaite.com