Cecile Richards Tells People: We Need 'More People in Office Who Can Get Pregnant'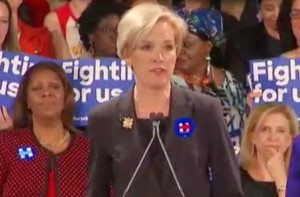 In a Wednesday interview with People amidst a push to defund Planned Parenthood, the organization's president Cecile Richards talked about everything from fighting abortion stigma to what it will actually take to secure reproductive rights in the law: representation.
"Until we have more people in office who can get pregnant, we will continue to have these fights," Richards said. "It is very frustrating to talk to members of Congress who will never need maternity benefits, never have to deal with an unintended pregnancy or think about whether they can afford birth control. That's a problem."
It's fair to say Richards is referring to a need for more women in general to be elected to represented Americans — you know, as opposed to straight, old white men repulsed by periods and illiterate on uterus-related matters. But maybe more specifically, Richards was talking about getting young, millennial women more involved in politics, too — women who could actually get pregnant, who still need their birth control covered by insurers, who know how irksome the notorious tampon tax is.
Who understands better than young women who still rely on crucial women's health services, who still need abortion services available as a safe, legal option, how important it is to protect access? Who could be trusted more to fight for reproductive rights, for quality maternal care, than young women who are affected by these circumstances?
Over the past years, with a Congress that's 80 percent male and 92 percent Christian, it's been easy for lawmakers to dehumanize and ignore the needs of constituents they can't personally relate to. It's been easy for them to value fetuses above living and often very vulnerable young women.
Representation matters, more so for reproductive rights than for any other issue, and electing not just women, but young women, could make all the difference in the world.
In recent years, Richards and other abortion rights activists have come forward to help fight the culture of stigma around the procedure which allows abortion to be tightly legislated and restricted by being forthcoming about their own experiences with abortion.
Still, according to Richards, "a woman shouldn't have to tell their most private reproductive stories just to keep our rights" — instead, maybe they could just run for office or support other women to run?
Since November 2016, according to Emily's List, an organization that works to elect pro-choice Democratic women down the ballot, more than 15,000 women have signed up to run for office. And if the future is female, then it's probably pro-reproductive rights, too.
This is an opinion piece. The views expressed in this article are those of just the author.