Celebrities Went Out of Their Way to Avoid Ryan Seacrest on the Red Carpet, and Twitter Totally Noticed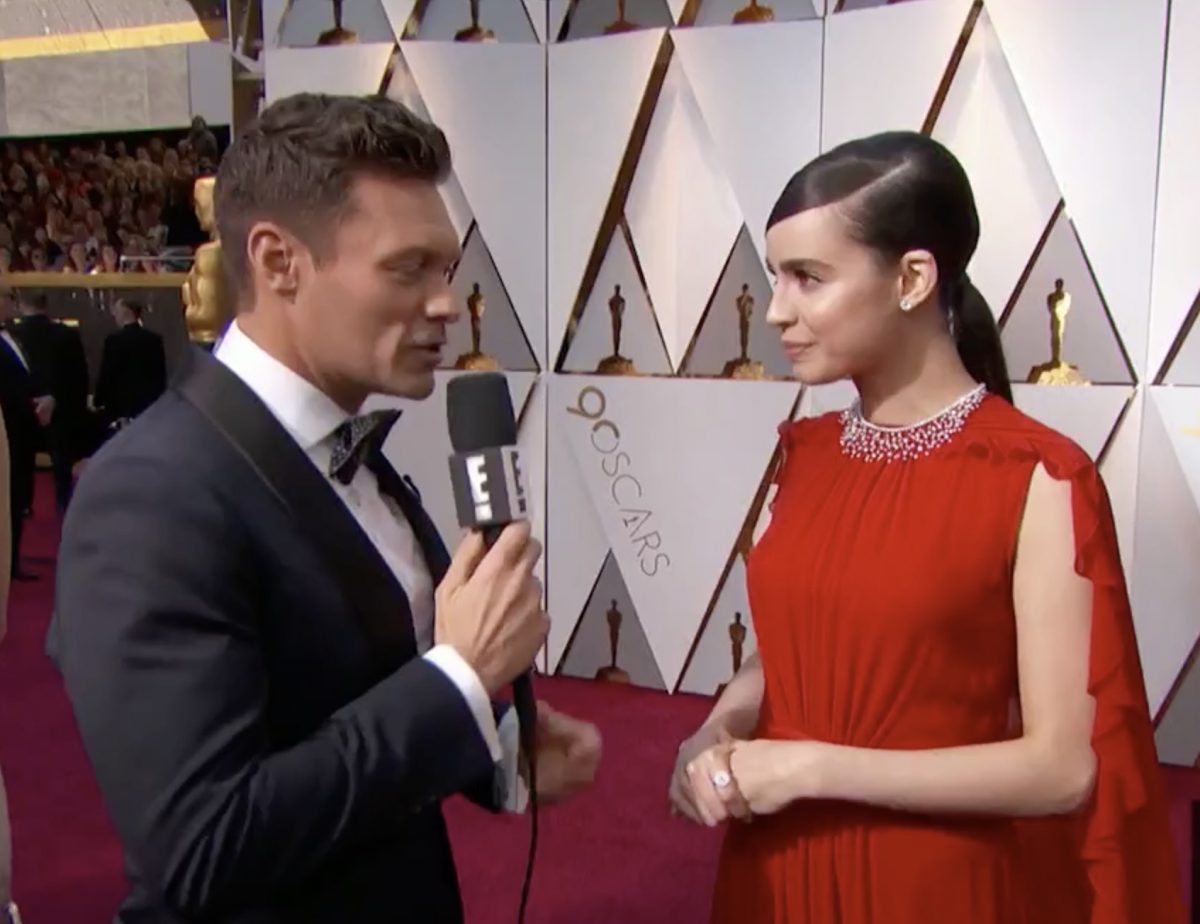 Earlier Sunday, The Hollywood Reporter published a story about a 30-second tape delay the E! Network planned to utilize during its Oscar pre-show. THR reported that the delay was implemented to filter out awkward moments involving its host, Ryan Seacrest — who has been accused of sexual misconduct by his ex-stylist, Suzie Hardy.
On Sunday, very few celebrities made their usually traditional stops on the Red Carpet to speak with Seacrest. And Twitter absolutely noticed. Here's a sampling of the social media reaction:
E! taking steps to protect Ryan Seacrest from embarrassment like he's the beloved king emeritus of the People's Republic of Stupid Bullshit

— erin ryan (@morninggloria) March 4, 2018
E! are one hour into their two hour Live from the Red Carpet show.

They've hardly cut to Ryan Seacrest, who's on the red carpet.

He's managed to get three interviews so far – two Best Original Song nominees, and Disney Channel actress Sofia Carson. #MeToo #Oscars

— Nooruddean (@BeardedGenius) March 4, 2018
YMMV but if they insist on employing Ryan Seacrest to do red carpet interviews, I want to see the "awkward moments" https://t.co/JWtkRHoo1C

— John McQuaid (@johnmcquaid) March 4, 2018
OK – giving Seacrest a 30 second delay is even more fucked up than having him on the red carpet.

— bert kreischer (@bertkreischer) March 4, 2018
E! just referred to Casey Affleck pulling out of his presenting duties amid sexual harassment allegations ("an awkward situation"), and then cut to Ryan Seacrest a few moments later. This is weird.

— Lauren Kelley (@lauren_kelley) March 4, 2018
They just gonna let Seacrest interview Christopher Plummer about taking over All the Money in the World after Spacey got fired?

— Craig Bro Dude (@CraigSJ) March 4, 2018
Christopher Plummer talking to Ryan Seacrest about the pleasurable risk involved in jumping in for Kevin Spacey has a very awkward vibe.

— Emily Nussbaum (@emilynussbaum) March 4, 2018
E! has Ryan Seacrest on a 30-second delay just in case he says something clever. #Oscar2018

— ?Joshua Malina? (@JoshMalina) March 5, 2018
21 minutes in, Ryan Seacrest has not spoken with anyone who doesn't work for the Oscars. going great!!!!

— Owen Ellickson (@onlxn) March 4, 2018
Wow. Ryan Seacrest is now a Greenpeace barker outside Trader Joe's.

— Wesley Morris (@Wesley_Morris) March 5, 2018
One actress, however, Taraji P. Henson, did indeed stop to talk to Seacrest. And the result was a super awkward moment. We'll be posting about that shortly.
[featured image via screengrab]
——
Follow Joe DePaolo (@joe_depaolo) on Twitter
Have a tip we should know? tips@mediaite.com
Joe DePaolo - Senior Editor