Political cartoons are supposed to speak for themselves. So when Libération reporter Isabelle Hanne asked Luz, the cartoonist responsible for Charlie Hebdo's first post-attack cover what he intended to convey, he first replied, "Am I going to have to explain a drawing? I really don't want to explain this drawing, except at face value."
But, as Luz's translated comments, via Slate, reveal, he did reluctantly go on to reveal the story behind the new cover, seen below: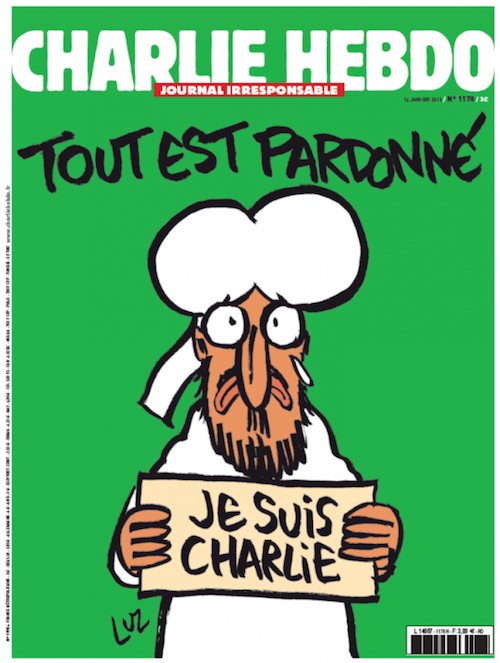 "With this cover, we wanted to show that at any given moment, we have the right to do anything, to redo anything, and to use our characters the way we want to," Luz said, referring to the depiction of the Muslim prophet who appeared on the magazine's controversial 2011 cover. "Mohammed has become a character, in spite of himself, a character in the news, because there are people who speak on his behalf. This is a cover aimed at intelligent people, who are much more numerous than you think, whether they're atheists, Catholics, Muslims…"
Luz described some other possible options he looked at before arriving at the final version, including a drawing of "our friends' asses on the ground, with the writing, 'Free expression, my ass!'" or one in which the terrorists are asking for their 72 virgins and are told "They're with Team Charlie, losers!" But ultimately, he explained, there was only one idea that could achieve the proper tone:
"I had this idea that I was stuck on: to draw my caricature of Mohammed, the one that had started all the chatter. And to do him holding a 'Je Suis Charlie' sign. It made me laugh. It was my last-ditch effort. So I drew my little drawing, and I looked at his face, and it made me laugh. I saw this character who had been used in spite of himself by nut jobs who set shit on fire, by terrorists. Humorless assholes: That's what these terrorists are. Of course everything is forgiven, my man Mohammed. We can overcome, because I managed to draw you. I showed my drawing to Richard Malka, then to Gérard Biard, and then we cried. Because we had it, a cover that looked like us, and that didn't look like everyone else or like the symbols that have been imposed on us over the last few days. Not a cover with bullet holes, but just a cover that makes us laugh."
Despite the inherent news value of the image, many American news broadcasters have decided not to air images of it, with only Fox News and CBS News showing it on Tuesday. Today, The New York Times' public editor Margaret Sullivan wrote that she believes her paper was wrong to censor the image.
[Photo via screengrab]
— —
>> Follow Matt Wilstein (@TheMattWilstein) on Twitter
Have a tip we should know? tips@mediaite.com