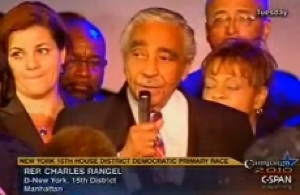 After successfully defending his turf in yesterday's Democratic primary, Rep. Charlie Rangel told his district that "President Obama needs people like me more than ever."
"And why do I say this?" asked Rangel, who has been consistently dogged by a variety of congressional ethics investigations. Apparently assuming that nobody else knew the answer, he immediately responded to himself:
During a period of fiscal crisis, joblessness, we are now waiting for the health care bill to kick in, immigration — immoral treatment of newcomers in this country — drugs still being a major issue, the inequity in the tax system as we find that the wealthiest people in this country have been given tax cuts that they really don't deserve and doesn't help the economy, I go back to tell the President, "You don't need all those Republicans."
After listing 5-6 reasons (depending on how you interpret his series of phrases) of why the 15th District of New York should vote Rangel, Rangel added:
There are a lot of Democrats that got elected, but they voted Republican. So this is the time, really, for the 15th Congressional Districts all over the country to come and say, "Mr. President, we've got a job to do." … You and I know that this country — and this world — is a lot better off because of President Obama.
While making no mention of how districts that aren't the 15th of their state should vote (California, New York, Pennsylvania, and Virginia are the only states that even have that many congressional districts), it's clear that Rangel really, really wants to win his. As he said himself, "Ain't nobody gonna turn this around."
Have a tip we should know? tips@mediaite.com