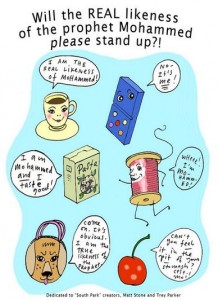 In a disturbing and matter-of-fact article, Seattle Weekly's editor in chief Mark D. Fefer explained to readers that there would not be a cartoon by Molly Norris in that week's paper, nor would there be one in any future issues. No, she wasn't fired. Norris has followed advice from the FBI, left town, and changed her name after a fatwa was placed on her by Islamic extremists following her cartoon promoting the made up "Draw Mohammed Day."
From the Seattle Weekly:
"The gifted artist is alive and well, thankfully. But on the insistence of top security specialists at the FBI, she is, as they put it, "going ghost": moving, changing her name, and essentially wiping away her identity. She will no longer be publishing cartoons in our paper or in City Arts magazine, where she has been a regular contributor. She is, in effect, being put into a witness-protection program—except, as she notes, without the government picking up the tab. It's all because of the appalling fatwa issued against her this summer, following her infamous 'Everybody Draw Mohammed Day' cartoon.

Norris views the situation with her customary sense of the world's complexity, and absurdity. When FBI agents, on a recent visit, instructed her to always keep watch for anyone following her, she responded, 'Well, at least it'll keep me from being so self-involved!' It was, she says, the first time the agents managed a smile. She likens the situation to cancer—it might basically be nothing, it might be urgent and serious, it might go away and never return, or it might pop up again when she least expects it."
Norris had created the cartoon in response to the threats and censorship following a South Park episode that toyed with the idea of depicting Mohammed and the furor it would create. The cartoon quickly caught fire and numerous Facebook groups sprouted up in support of the holiday. That controversy can be seen as the beginning to the Summer of Islamic Tension, a series of discussions that have devolved from legitimate concerns with aspects of a religion into book-burning loonies gobbling up publicity and bickering over how many street blocks constitutes a "sensitive" amount.
While some people have taken things altogether too far this summer, this story about Norris reminds us that the dangers of extremism and terrorism are still all too real. The South Park situation ended comparatively well, but a woman who was just doing her job as a satirist has been forced to start her life anew because there are people in this world who are willing to kill over their beliefs.
Have a tip we should know? tips@mediaite.com