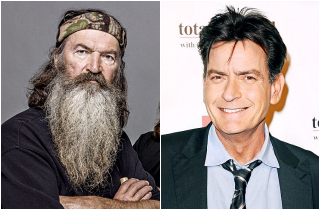 I know we're all sick of this Phil Robertson thing, but let's come together as a society to make room for Hot Shots! Part Deux star Charlie Sheen's apostrophic poem to Robertson, which—we can only pray, please all godz Allah through Zeus—will be the final words written on this already engorged saga:
hey Mallard brained
Phil Robertso!
you have offended and hurt so many dear friends of mine,
who DO NOT have the voice or the outreach that I do.
well news flash
shower-dodger,
I will speak loudly and clearly for ALL of them.
You have my attention.
your statements were and are
abhorrently and
mendaciously unforgivable.
How can something be "mendaciously unforgivable?" Shhhhh.
the only thing you should ever be in charge of building is a hole in the ground the exact size of your head.
perhaps your beard would fit as well if you plucked out the
army of scabies and
bull weevils sequestered deep in it's sarcophagus of dander and weasel pelts.
"Sarcophagus of dander" is pretty good, but stanza seven is still my fave:
on the eight day
when I was whittling my cosmic banjo,
I'm pretty sure YOU were the scattered dross I then used to light a fire and
locate the nearest
Andy Gump.
If While I Was Whittling My Cosmic Banjo is the title of Sheen's memoir, everybody take a half day.
Now bring us home, Sheen:
repulsed by you;
c sheen

hash tag;
Duck; that was me.
As you were, Phil Robertso. As you were.
[h/t Jezebel]
[Image via Jason LaVeris/FilmMagic / AP]
——
>> Follow Evan McMurry (@evanmcmurry) on Twitter
Have a tip we should know? tips@mediaite.com