Christie Campaign Confirms Gawker Story That He Was Kicked Off Amtrak Quiet Car (UPDATED)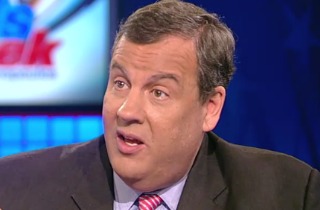 Editor's Note: The Christie campaign reached out to Mediaite stressing that they are not necessarily confirming every detail of the Gawker story. Additionally, Christie does not have Secret Service protection. Donald Trump and Ben Carson are the only two on the GOP side who have it. Christie, as a sitting governor, always has State Police protection when he travels.
Chris Christie's presidential campaign confirmed an incident first reported Sunday morning by Gawker in which the New Jersey governor was kicked off the quiet car on an Amtrak train.
Christie was on a train from Washington, D.C., to New York following his appearance on CBS' Face the Nation, having what a witness described to Gawker as an "intense phone conversation." To add to the frustration, Gawker reported that Christie nearly missed the train and did not get the seat he wanted.
"He got on last minute yelling at his two secret service agents I think because of a seat mixup, sat down and immediately started making phone calls on the quiet car," passenger Alexander Mann told Gawker. "After about 10 minutes the conductor asked him to stop or go to another car. He got up and walked out again yelling at his secret service. He was drinking a McDonald's strawberry smoothie."
Mann also said the phone conversation was "intense," noting that he was harping on phrases such as, "This is frickin' ridiculous" and, "Seriously?! Seriously?!"
Christie campaign spokeswoman Sam Smith later confirmed the incident to CNN's Ashley Killough, saying Christie "accidentally" boarded the quiet car. "After breaking the cardinal rule of the quiet car, the Governor promptly left once he realized the serious nature of his mistake and enjoyed the rest of his time on the train from the cafe car," Smith said. "Sincere apologies to all the patrons of the quiet car that were offended."
UPDATE — 1:20 p.m. ET: In an email to CNN's Eric Bradner, Mann gave more details:
A noisy @ChrisChristie got booted from an Acela quiet car this morning. https://t.co/mXoqGIqyF1

A rider emails: pic.twitter.com/Dvb9VLNqyS

— Eric Bradner (@ericbradner) October 25, 2015
UPDATE — 5:10 p.m. ET: A woman who claims she was sitting next to Christie in the cafe car took to Twitter to dispute the details of the Gawker story:
Listen. I'm no @ChrisChristie fan, but this @Gawker story isn't close to accurate. He was sitting at my table.

— Katie Klabusich (@Katie_Speak) October 25, 2015
About the @Gawker fail: @ChrisChristie was super courteous & possibly the least intrusive in-public phone person ever.

— Katie Klabusich (@Katie_Speak) October 25, 2015
Obvi he was running late coming from a thing & got on the 1st open car, not realizing it was the quiet car b/c diff location on express.

— Katie Klabusich (@Katie_Speak) October 25, 2015
When the conductor came by to check tickets he just said "sir, this is the quiet car." CC had the same reaction as anyone:

— Katie Klabusich (@Katie_Speak) October 25, 2015
"You're kidding. It's the quiet car? Alright" & to the phone "I gotta go, I'm in the quiet car. Call you back."

— Katie Klabusich (@Katie_Speak) October 25, 2015
Did he appear annoyed? Sure. Apparently having a shit logistics day & someone fucked up. Was he screaming, causing a scene? Hardly.

— Katie Klabusich (@Katie_Speak) October 25, 2015
This shit is why people don't believe anything they hear/read. Who was your source? A dude who snapped a pic hoping you'd pay him? smdh

— Katie Klabusich (@Katie_Speak) October 25, 2015
[Image via screengrab]
— —
>>Follow Andrew Desiderio (@desiderioDC) on Twitter
Have a tip we should know? tips@mediaite.com