Christie: No Position On Immigration Unless I Become A Candidate for President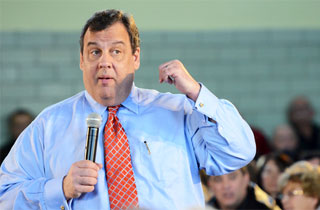 So far, New Jersey Governor and probable 2016 GOP presidential candidate Chris Christie has avoided talking immigration policy, claiming that it's too nuanced of a subject to be talked about on a stump speech whenever he's asked. Even after visiting the President of Mexico, he told reporters in Mexico City yesterday that he still wouldn't take a side of the debate, unless one thing happened, according to CNN:
"Until that time I have no role in the immigration debate, except for how it may affect the individual citizens of New Jersey, which I'll deal with as governor," the New Jersey Republican told reporters.

"But I won't have anything to say on immigration unless and until I become a candidate for president of the United States," he continued. "If that happens, then I will articulate a full position on it."
Christie said that his meeting with President Enrique Peña Nieto did involve immigration talk, and said that America bore the most responsibility for fixing the issue. "It's a very difficult issue for both [political] parties," he added, but said that it remained a priority for the GOP — albeit for very pragmatic, electoral reasons, like courting the Latino vote.
"I don't care who those votes come from," he said, "as long as you wind up with more than the other guy, you win, you get to govern, and that's what our party should be focused on."
[CNN]
[Image via L.E.MORMILE / Shutterstock.com]
—
>> Follow Tina Nguyen (@Tina_Nguyen) on Twitter
Have a tip we should know? tips@mediaite.com