Christie: Parents Should Have 'Some Measure of Choice' on Vaccinations (UPDATED)
Christie: Parents Should Have 'Some Measure of Choice' on Vaccinations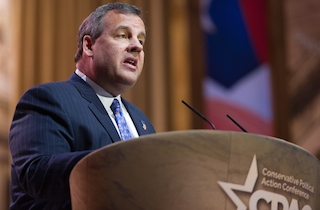 New Jersey Governor Chris Christie expressed the need for "some measure of choice" Monday morning in whether parents should vaccinate their children.
"Mary Pat and I have had our children vaccinated and we think that it's an important part of being sure we protect their health and the public health," Christie said. "I also understand that parents need to have some measure of choice in things as well, so that's the balance that the government has to decide."
"Not every vaccine is created equal," Christie added, "and not every disease type is as great a public health threat as others."
The remark comes in the wake of the most severe measles outbreak in years, a disease long thought eradicated due to vaccines, but one that's reemerged, along with whooping cough, since vaccines have become a matter of controversy. The recent measles outbreak began at Disneyland and has since spread to over 100 cases in fourteen states.
Apparently for ironic lulz, Christie made the remarks while standing in front of MedImmune, an English biotech lab that produces vaccines, on the same morning that President Barack Obama told Savannah Guthrie that parents should vaccinate their children, echoing advice from CDC Director Tom Frieden.
UPDATE 10:32 a.m.: Christie's office hurried to clarify his remarks:
BREAKING: Christie modifies vaccine remarks via press release from NJ. pic.twitter.com/pIM4M1mLJS

— Michael Barbaro (@mikiebarb) February 2, 2015
[h/t Washington Post]
[Image via Christopher Halloran / Shutterstock.com]
——
>> Follow Evan McMurry (@evanmcmurry) on Twitter
Have a tip we should know? tips@mediaite.com