Cleveland Police Investigating Homicide That Was Posted to Facebook (UPDATED)
The Cleveland Police Department is investigating a homicide that went up on Facebook earlier today.
UPDATE –– 11:56 pm ET: Despite the Cleveland PD saying earlier in a statement (below) that the killing was broadcast on Facebook Live, Facebook is telling multiple news outlets that while the suspect was on Facebook Live earlier, the homicide was not live-streamed, but in fact uploaded:
Facebook tells me that, contrary to Cleveland PD, the murder was not live streamed, but uploaded. We are updating https://t.co/HyA68BFqA2

— emily (((dreyfuss))) (@EmilyDreyfuss) April 17, 2017
News outlets have been reporting that the Cleveland shooting was live-streamed. But Facebook now says no– it was recorded and then uploaded

— Brian Stelter (@brianstelter) April 17, 2017
While the shooting wasn't live-streamed, the suspect DID log onto Facebook Live and talked about it afterward. Posted status updates too.

— Brian Stelter (@brianstelter) April 17, 2017
This is the full statement posted to the Cleveland PD website:
Cleveland Police are currently investigating a homicide at 635 E. 93.
Suspect did broadcast the killing on Facebook Live and has claimed to have committed multiple other homicides which are yet to be verified.
Suspect in this case is a bm Steve Stephens 6'1 244 bald with a full beard. Wearing dark blue and grey or black striped polo shirt. White or cream colored SUV. Armed and dangerous. If seen call 9-1-1. Do not approach.
They have also posted this photo of suspect Steve Stephens: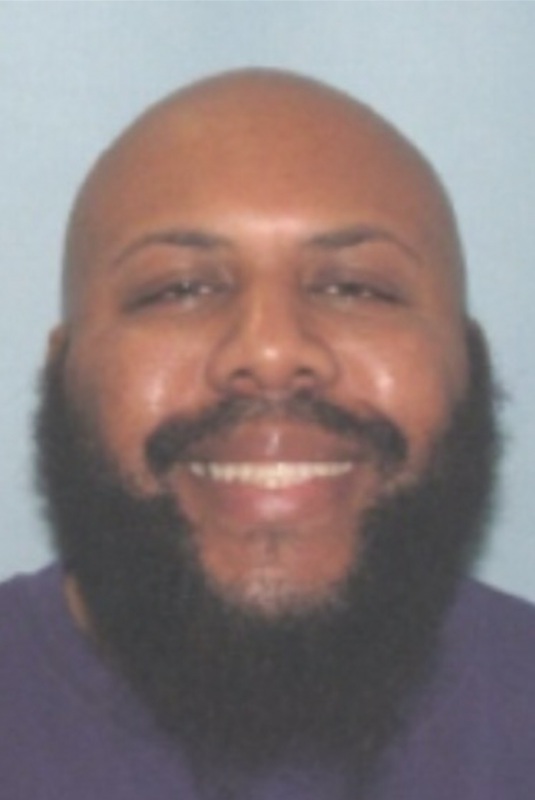 The other homicides the suspect talked about on the video have not yet been confirmed by authorities.
We will update this post as more information comes in.
UPDATE: 6:10 p.m. EST – ABC 7 reporter Scott Taylor said on Twitter that the FBI is involved in the Cleveland Police's manhunt:
It makes sense @FBICleveland working with @CLEpolice on manhunt. FBI has HQ right downtown in City.

— Scott Taylor ABC 7 (@ScottTaylorTV) April 16, 2017
Authorities intend to hold a press conference at 6:25 p.m. to discuss the investigation.
UPDATE – 6:28 p.m. EST: CBS affiliate WOIO spoke with a local man and woman who say that their father was the elderly man Stephens allegedly killed during his broadcast:
I just spoke with a man and woman who said the man killed in the FB live video was their 78 year old father @cleveland19news pic.twitter.com/Gpf3EUafLM

— Shanice (@ShaniceDunning) April 16, 2017
UPDATE – 6:44 p.m. EST: Watch the presser below.
Media update on shooting suspect Steve Stephens https://t.co/FTTPJW3X44

— Cleveland Police (@CLEpolice) April 16, 2017
UPDATE – 7:44 p.m. EST: Facebook has put out a statement addressing the incident:
Facebook statement on Cleveland shooting video: "This is a horrific crime and we do not allow this kind of content" https://t.co/G8mpL2QxfI

— Brian Stelter (@brianstelter) April 16, 2017
UPDATE – 8:43 p.m. EST: Cleveland Police have tweeted out a photo of Stephens' car:
UPDATE Homicide suspect Steve Stephens' actual vehicle has Ohio Temp tag E363630 pic.twitter.com/tE3r5u4BNN

— Cleveland Police (@CLEpolice) April 17, 2017
[image via Cleveland Police Department]
Have a tip we should know? [email protected]
Josh Feldman - Senior Editor