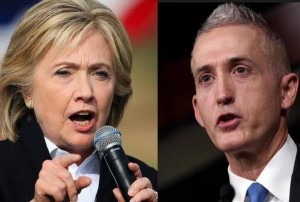 Former Secretary of State and current presumptive Democratic presidential nominee Hillary Clinton is nothing if not a fighter, and her campaign isn't taking Republicans' grilling of FBI Director James Comey lying down. During a House hearing in which Republicans tried to make the case that the FBI should have charged Hillary Clinton, the campaign hit back with an email reminding reporters of that time committee member Rep. Trey Gowdy (R-SC) 'outed' a CIA source during one of the many Benghazi investigations:
The email posted Sunday on the panel's website included in one instance the name of "Mousa Kousa," an alternative spelling of Moussa Koussa, a former Libyan government spy chief and foreign minister. The name appeared to have been redacted in several other instances but was included in a subject line of a forwarded email.

The redacted email was released at Gowdy's direction "so the American people could decide for themselves regarding concerns about sources and methods," the Benghazi Committee said in a statement. By Monday morning, the committee had replaced the document online with another version in which Koussa's name does not appear.
At the time, the State Department admitted "human error" on their part for failing to redact the name, but the Clinton campaign is placing the blame on Gowdy for posting the unredacted email publicly.
The campaign also hit committee chairman Rep. Jason Chaffetz (R-UT) for using a Gmail account, and for leaking sensitive information. Here's the full text of the campaign's email:
Flashback: Chaffetz and Gowdy Disclosed Sensitive Information, Outed a CIA Source

Chaffetz Flagrantly Used Personal Email


​

On Multiple Occasions, Chaffetz Inappropriately Disclosed Sensitive Information

"Now that Chaffetz had alerted potential bad guys that something valuable was in the photo, the chairman, Darrell Issa (R-Calif.), attempted to lock the barn door through which the horse had just bolted. 'I would direct that that chart be taken down,' he said, although it already had been on C-SPAN. 'In this hearing room, we're not going to point out details of what may still in fact be a facility of the United States government or more facilities.' May still be a facility? The plot thickened — and Chaffetz gave more hints. 'I believe that the markings on that map were terribly inappropriate," he said, adding that "the activities there could cost lives.'"

Similarly, Trey Gowdy Released The Name Of A CIA Source During The Benghazi Committee
Have a tip we should know? tips@mediaite.com