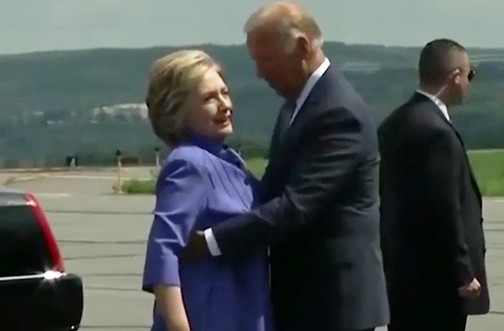 Apparently, it's not just Socialist Bernie Sanders in the proverbial cross-hairs of Hillary Clinton over the historic failure of her 2016 presidential effort. No, the operatic calamity represented by Clinton's billion dollar boondoggle of a campaign was also Joe Biden's fault.
In an excerpt of What Happened obtained by Clinton's extended campaign operation CNN the former Secretary of State targets the former Vice President with sarcastic disdain over his criticism of the fruitless presidential escapade that ended in sobs and bitterness in the Jacob Javitz Convention Center on November 8th.
At issue was a speech delivered by Biden earlier this year at the University of Pennsylvania. In the speech, Biden gave his political analysis of the disaster that was the "I'm With Her" and "Stronger Together" messaging of Clinton's loss.
"What happened was that this was the first campaign that I can recall where my party did not talk about what it always stood for—and that was how to maintain a burgeoning middle class," Biden said.
This fairly gentle swipe is clearly stuck in Clinton's proverbial craw as she refuses to let such a suggestion pass without her trademark, condescending response:
"Joe Biden said the Democratic Party in 2016 'did not talk about what it always stood for—and that was how to maintain a burgeoning middle class,'" Clinton writes. "I find this fairly remarkable, considering that Joe himself campaigned for me all over the Midwest and talked plenty about the middle class."
Of course,  the former Vice President would be perfectly justified in sweetly responding to her bitterness: "Yeah honey, that's the problem… I talked about them plenty but I WASN'T RUNNING FOR PRESIDENT!!!"
As the circular firing squad that is the Democratic Party continues to assemble and load their muskets for the 2020 presidential primary, it's fun to observe their revered and stalwart figures like Clinton and Biden going after each other and sucking up all of the oxygen and most of the spotlight.
After all, as long as the party continues to be beholden to Clinton and her failed political tactics, the more they'll be doomed to repeat them.
This is an opinion piece. The views expressed in this article are those of just the author.