CNN's Acosta Writes About Confrontations With Trump Supporters: Someone Told Me 'You Are Scum'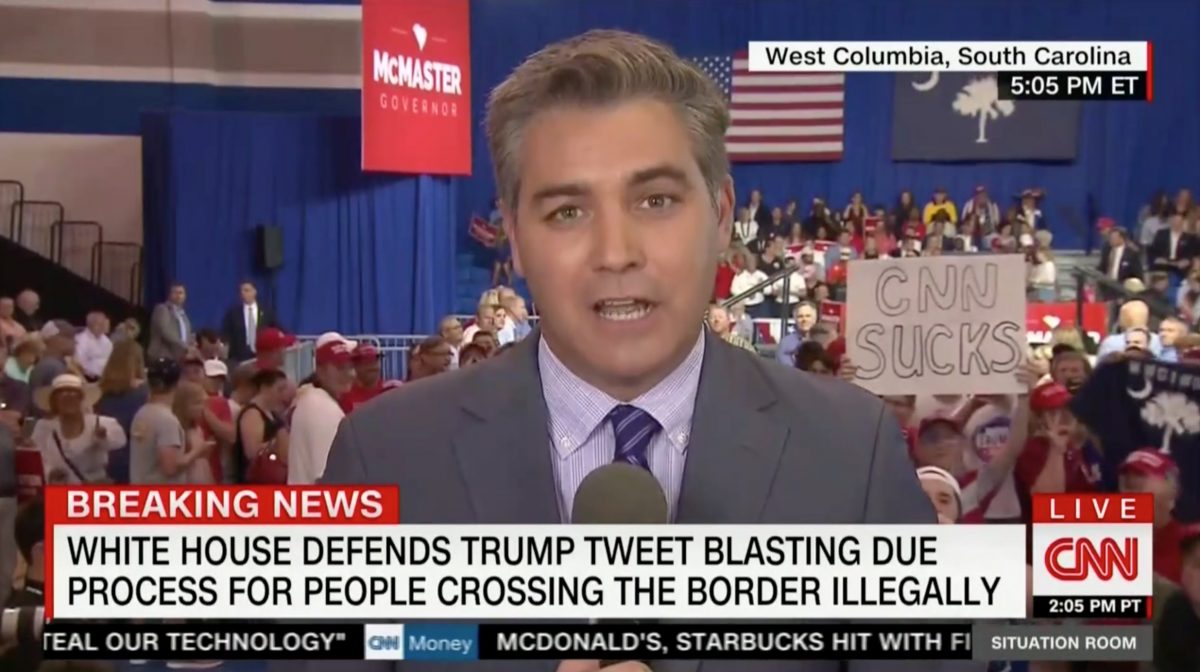 By now you may have heard that CNN's Jim Acosta received a less-than-warm welcome by Trump rallygoers in South Carolina last night. Someone held up a CNN SUCKS sign while he was live on air, people shouted at him, and there was a pretty audible chant of "Go home Jim!"
Acosta wrote a piece for CNN.com today going into some detail about the range of reactions he got from Trump supporters:
Approximately three hours before Trump took the stage in West Columbia, an elderly woman walked right up to me and ordered me to leave the venue. Her language would likely make her grandkids blush.

"Get the f*** out of here," she told me. "Out of here. Out. Out. Out. Out."
Acosta says he told her, "Ma'am, I have every right to be here."
She responded, "Out. Out. Out. You are scum. Get out of here."
Another woman apparently told him off for being "rude" to President Trump and Sarah Huckabee Sanders, saying, "Don't ask any more stupid questions."
But what's weirder is that even though he was heckled a lot yesterday, people approached him in a friendly manner, asking for selfies and even autographs.
One of the men heckling him "asked if I could somehow put him on television."
And apparently some people apologized to him personally "on behalf of the people of South Carolina."
After calling out questions during the North Korea summit, Trump's 2020 campaign manager Brad Parscale called for him to lose his press credentials.
You can read the whole thing here.
[image via screengrab]
— —
Follow Josh Feldman on Twitter: @feldmaniac
Have a tip we should know? tips@mediaite.com
Josh Feldman - Senior Editor