CNN's Brianna Keilar Grills Clinton Spox: 'Why Did She Decide to Delete the Emails?'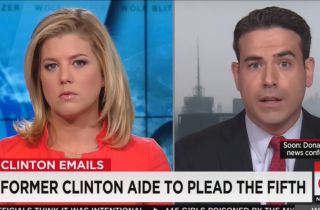 CNN's Brianna Keilar on Thursday afternoon grilled Brian Fallon, the press secretary for Hillary Clinton's presidential campaign, over a former aide's decision to plead the 5th Amendment at a closed-door appearance in front of the House Select Committee on Benghazi, as well as Clinton's private email server.
The former staffer, Bryan Pagliano, worked at the State Department and is believed to have played a role in the setup of Clinton's private email server. Clinton's use of a personal account and server have been under intense scrutiny from her Republican rivals, prompting many voters to question her integrity.
Keilar, citing a statement from Clinton's traveling press secretary Nick Merrill in which he encouraged all "current and former" aides to answer questions, asked Fallon why Pagliano is "disregarding" that.
"Well, he's not a part of the campaign," Fallon said, citing other former Clinton aides who either have testified or plan to do so. "He's a private citizen. And so we can't require him to do anything. He's represented by his own lawyer. All we can do is give the same advice and recommendation and encouragement as Hillary Clinton has done with all of her aides, current and former."
Keilar then alluded to her July interview with Clinton, saying the former secretary of state never answered her questions about the process of deleting emails. Fallon disagreed with that assertion, and Keilar asked him why she decided to delete the emails that she deemed were personal and unrelated to her work at the State Department.
"It's not even clear to us who went through the emails," Keilar said. "It's not clear to us the actual timeline for when those were deleted. We've sort of gotten a range, but it's kind of vague."
Fallon said Clinton's legal team went through a "laborious process," "email by email" to determine which emails were work-related, but didn't answer Keilar's question as to whether Clinton had direct involvement.
"No emails were lost in this process," Fallon insisted, saying that electronic copies of all emails were kept by her attorney David Kendall. Keilar also pressed him on whether the emails were in PDF form or traditional metadata form.
Watch the video below, via CNN:
[Image via screengrab]
— —
>>Follow Andrew Desiderio (@desiderioDC) on Twitter
Have a tip we should know? [email protected]