College Student Posts Picture of Klan Rally on Campus, Turns Out to Be Lab Equipment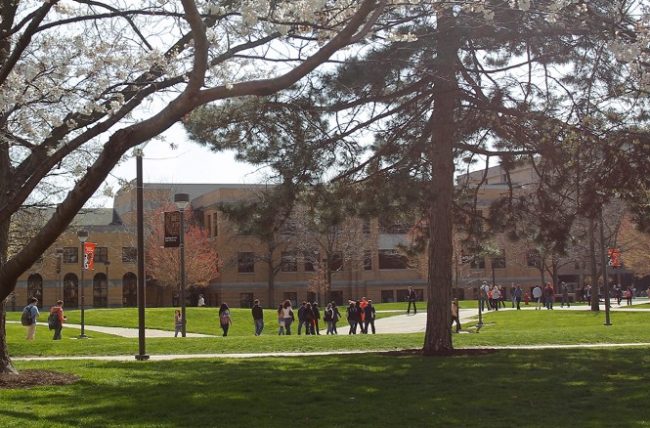 A Bowling Green State University student raised the alarm Monday over the supposed appearance of a Ku Klux Klan rally on campus, which needless to say, turned out not to be a Klan rally.
The student in question tweeted the following, along with video of the "Klansman":
There's been an ACTIVE KKK group in Bowling Green, OH since 1922. @bgsu @PresidentMazey soo, how does this promote diversity &a inclusion?? pic.twitter.com/bmoA66Rt0O

— A. ?? (@autumpatrice) January 22, 2017
Bowling Green actually looked into the incident, and its president soon tweeted that the Klan rally was actually just covered-up lab equipment.
Thanks for sharing, @autumpatrice. We looked into this. We discovered it's a cover on a piece of lab equipment. pic.twitter.com/plkQTBr9HC

— Mary Ellen Mazey (@PresidentMazey) January 23, 2017
The amusing incident spread like wildfire and mockery ensued, first from students and then from a wider audience.
Only at BG could someone mix up lab equipment with the KKK smh

— Drew Willis (@DWillis23_) January 23, 2017
Lol some girl thought she saw the KKK on campus and it was a covered up piece of lab equipment ?

— Tyler Batu (@TylerNot1But2) January 23, 2017
Were you ever so woke that you mistook a projector with a sheet thrown over it for a KKK rally? pic.twitter.com/tf6rXDj1TQ

— neontaster (@neontaster) January 24, 2017
@neontaster Maybe it's Pres. Bush in his inaugural poncho. Oh, scary. pic.twitter.com/nNC4wch5Jc

— Great Plains Girl (@LiberalsRAngry) January 24, 2017
It's like an episode of Scooby Doo pic.twitter.com/bezMnOeydF

— The Safest Space (@TheSafestSpace) January 24, 2017
What's that saying about making assumptions…? https://t.co/5Xn8zMPpo4

— Jason Russell (@JRussellMI) January 24, 2017
I would laugh but these people will be preparing my coffee incorrectly in a few years. https://t.co/nCwfZruFcx

— Liars Never Win (@liars_never_win) January 24, 2017
Meanwhile, the student still insists that there's a Klan chapter somewhere on campus.
@PresidentMazey Thnk u so much for clarifying what this was! even tho the hate group still exists in BG I'm glad this WASN'T what I thought!

— A. ?? (@autumpatrice) January 23, 2017
[Image via Bowling Green State University]
—
>>Follow Alex Griswold (@HashtagGriswold) on Twitter
Have a tip we should know? [email protected]