Columnist Savages Black GOP'ers: 'Depressingly Easy To Goad Black Conservatives Into Saying Something Bigoted'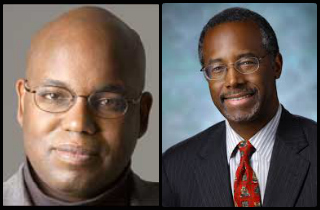 On Tuesday, Pittsburgh Post-Gazette columnist Tony Norman tore into conservative pediatric neurosurgeon Ben Carson, among other black conservatives, in an opinion piece entitled "Black Conservatism Seems so Unappetizing." "It is depressingly easy to goad black conservatives into saying something bigoted out loud," Norman wrote of Carson's recent expression of opposition to same-sex marriage rights in which he equated homosexuality with bestiality and pedophilia. Norman says that statements like Carson's are what prominent conservatives think "a 'sensible' black leader is supposed to sound like."

RELATED:Sean Hannity Is Right: Black Conservatives Have 'No Freedom Of Speech'
"Watching newly minted black conservative hero Ben Carson walk back his [Rick] Santorum-like utterances on same-sex marriage last week was excruciating," Norman wrote. "Earlier, Dr. Carson said on Sean Hannity's talk show that marriage was "between a man and a woman" and that "no group — be they gays, be they NAMBLA, be they people who believe in bestiality, it doesn't matter what they are — they don't get to change the definition."
"In his social and religious circles, he's used to hearing gays lumped in with child molesters and people who have sex with animals," Norman opined. "He may not have been directly equating them, but he was casually associating marriage equality with evil sexual practices by mentioning them in the same breath. He would have to be naive or stupid — and he isn't stupid — to think people wouldn't make the connection."
Norman calls Carson a "good guy" and a brilliant surgeon, but this does not excuse his "espouser of bizarre theories." Norman equated statements made by Carson to those made by Southern Baptist Convention president Fred Luter who recently linked legal gay marriage to threats by North Korean leadership to use nuclear weapons on American cities.
It is depressingly easy to goad black conservatives into saying something bigoted out loud, especially if it involves gays and lesbians. Give them a microphone and they'll find a way to fit the conservative narrative of what a "sensible" black leader is supposed to sound like. Somehow, they're always shocked when their sanctimony isn't enough to shield them from criticism.
"Though every American would be better off in a system where both parties compete fiercely for every vote, conservatives overwhelmingly prefer mayonnaise and Wonder Bread to a peanut butter and chocolate world," Norman concludes.
Read the full editorial below via the Pittsburgh Post-Gazette
> >Follow Noah Rothman (@NoahCRothman) on Twitter
Have a tip we should know? tips@mediaite.com