Community Writer Megan Ganz Forgives Show Creator Dan Harmon After Extensive Harassment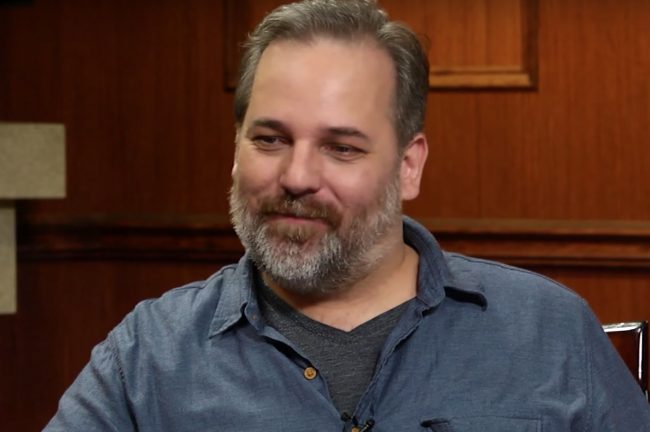 Community writer Megan Ganz — who accused show creator Dan Harmon of sexual harassment last week — forgave her former boss after he issued an extensive apology and account of his misconduct in his podcast.
Ganz, who had a back and forth with an apologetic Harmon on Twitter after first launching the accusations, directed her followers on Wednesday night to listen to the latest episode of Harmon's podcast:
Here's a weird one for you: Last week, I called out my former boss @danharmon for sexual harassment, and today I'm going to ask you to listen to his podcast. https://t.co/BEZAWH787V

— Megan Ganz (@meganganz) January 11, 2018
At around the 18:30 mark of the podcast, Harmon goes into a thorough mea culpa over his behavior on the set of hit show Community, describing his attempts to flirt with Ganz — despite her expressed disinterest and his "live-in girlfriend."
"I was attracted to an employee," Harmon said. "The most clinical way I can put it in fessing up to my crimes is that I was attracted to a writer I had power over because I was a show runner and I knew enough to know that these feelings were bad news."
He continued:
Flirty, creepy, everything other than overt enough to constitute betraying your live-in girlfriend who you're going home to every night, who is actually smart enough and respectful enough to ask you 'do you have feelings for that young writer that you're talking about, that you're paying all this attention to?' and saying to her 'no,' because the trick is if you lie to yourself, you can lie to everybody. It's really easy.
Harmon went on to detail his breakup with his girlfriend, which he said led him to get even more "overt about [his] feelings," and tell Ganz "I love you."
When Ganz rejected his advances, Harmon said he "was humiliated," and "continued to do the selfish thing."
"Now I wanted to teach her a lesson. I wanted to show her that if she didn't like being liked in that way then, oh boy, she should get over herself," he said. "I crushed on her and resented her for not reciprocating it and the entire time I was the one writing her paychecks and in control of whether she stayed or went and whether she felt good about herself or not, and said horrible things. Just treated her cruelly, pointedly, things I would never, ever would have done if she had been male and if I had never had those feelings for her."
And in response, Ganz forgave her former boss:
This was never about vengeance; it's about vindication. That's why it didn't feel right to just accept his apology in private (although I did that, too). Because if any part of this process should be done in the light, it's the forgiveness part. And so, @danharmon, I forgive you.

— Megan Ganz (@meganganz) January 11, 2018
Listen to Harmon's full confessional here.
[image via screengrab]
—
Follow Aidan McLaughlin (@aidnmclaughlin) on Twitter
Have a tip we should know? tips@mediaite.com
Aidan McLaughlin - Editor in Chief